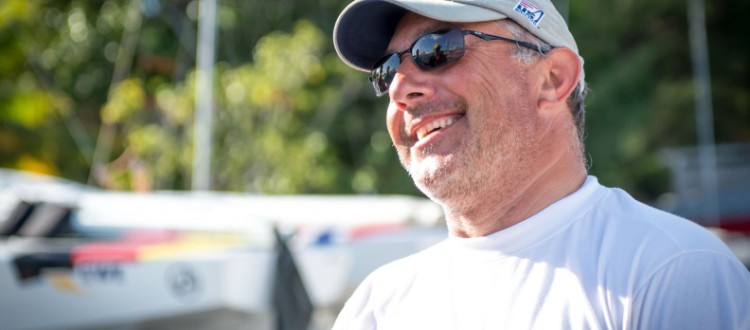 Know the sailors: Sergio Lambertenghi
Sergio Lambertenghi, Torbole, Italy. Highest SSL Ranking: 2
Sergio started sailing on Lake Garda in an Optimist at nine years of age and has competed in the Soling and Laser as well as the Star Class. Sergio was Star Class European champion in 1998 and has competed in nine world championships. His best result was in 2014, coming second on his home waters of Lake Garda, with Diego Negri. The Italian team have made the last four of the SSL Finals in the last two editions.
---
SSL: If you weren't a sportsperson, what would you be?
SL: Sport has always been an important part in my life. I started sailing very young but probably, if I had not chosen sailing, I would have chosen another sport, like skiing. As I live very close to mountains.
SSL: What is the greatest sacrifice you have had to make in order to achieve success?
SL: As a non professional, I always do a little sacrifice for my sport; leaving my family and my work in order to go sailing.
SSL: What animal fascinates you and why?
SL: I love dogs, I have two.
SSL: What kind of a person makes you angry?
SL: People not telling the truth or considering themselves beyond rules. I hate people who do not play fair.
SSL: What kind of person makes you happy?
SL: Good friends, with a good sense of humour, around a dinner table, enjoying conversation.
SSL: What was is your favourite memory from another sport?
SL: The day I went with some friends on a cross country skiing excursion to the top of Similaun Mountain, on the border between Italy and Austria. Reaching the summit (3600m) was not easy; there was bad weather during the morning, but when we reached the top the weather became better and we had an awesome descent on the other side of the mountain in fresh powder.
SSL: What book inspires you and why?
SL: A science fiction book I read many years ago: Time enough for love by R.A. Heinlein. Why? Read it!
SSL: Is there any specific technique you use when competing to help motivate yourself ?
SL: Not really, I just try to focus on my target, and in the days before racing, we check all the boat and equipment to avoid failures during sailing.
SSL: If you could invite a person from history for dinner, who would you choose?
SL: Albert Einstein
SSL: How many Gold Medals or World Championships is 'enough'.
SL: Enough for me would be one (I have never won!) but I'm quite sure the right answer is "one more"!
SSL: A child asks you if Santa Claus is real, what do you say?
SL: I'd say he's a really busy person, so he could be late on Christmas night. So I could gain some extra time to get a real good present! 🙂
SSL: If you could have a super hero special power what would it be?
SL: I would be Mr. Fantastic, with his ability to stretch, very useful while sailing, but most of all, very useful to pass the weigh control!
---
 
1-6 December 2015 – The third edition of the SSL Finals will take place in Nassau, Bahamas
All SSL events use a qualifying competition followed by a knock-out system. Teams take part in the qualifying rounds, which is a series of races over three days. The top 11 teams progress to the knock-out stage, which has four stages. In one-off races teams are eliminated, until just four teams remain to contest the final. The winner takes home a big slice of the $200,000 Prize Purse.
Watch all the action live from the Star Sailors League Final. With expert commentary from special studio guests. On the water, the latest in hi-tech camera technology, as well as Virtual Eye 3D Graphics, will provide thrilling viewing. Armchair sailors can also join the race with Virtual Regatta.