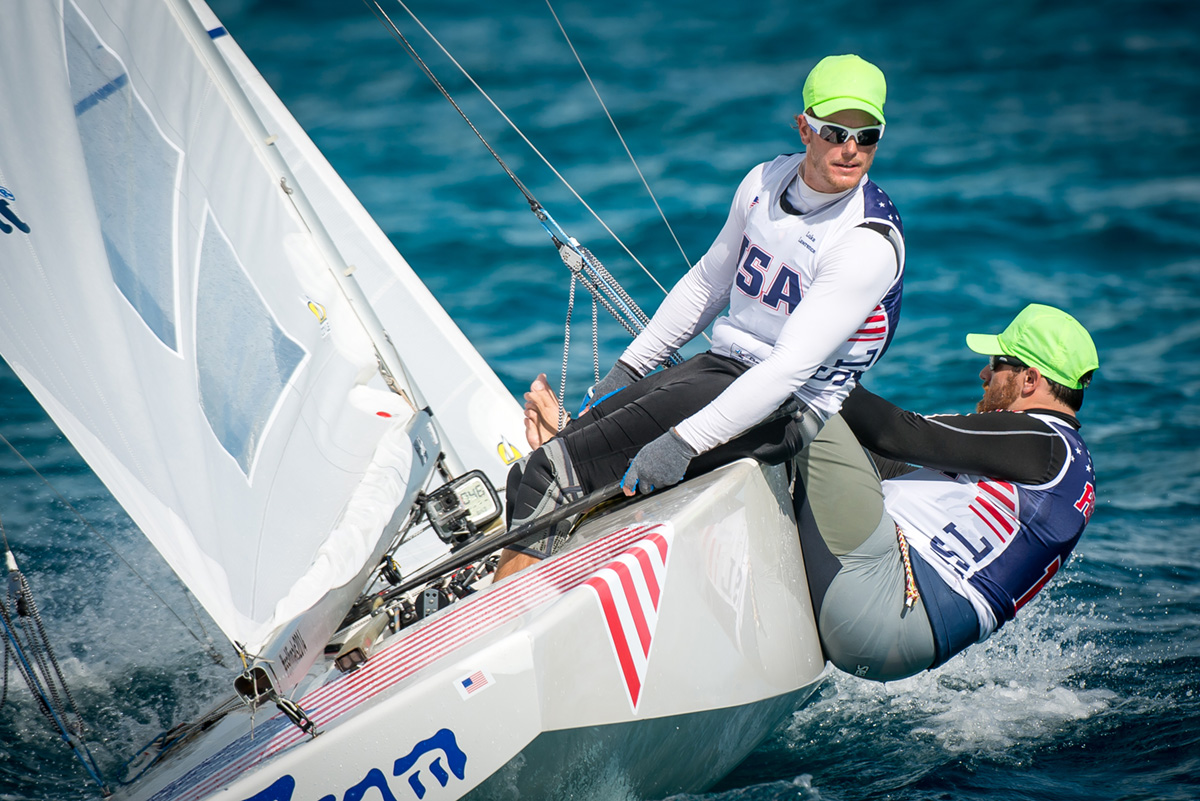 Luke Lawrence: an event like this promotes the best sailors and gives the kids something to look up to
Did this experience change your mind about the class? Change your plans in general?
Well, the plan is to try and qualify for this event with my own crew, Ian Coleman, and practice as much as we can because we saw from George Zarif, that practice and the time you put into the Star – even though it's not Olympic – is one of the most important things. I think what I've learned from this year is that next year I'm going to really focus on the preparation beforehand and the crew work. This year, obviously, there was a last second deal we pulled together three weeks before the event. I lost 30 pounds, Josh lost 40. And we made it, we made the weigh-in, and we got here. But that was probably more stress than dealing with the event itself, so I'd say next year it's going to be focusing not on the weight but on the actual sailing. It was a great opportunity to be able to be here even though last second. I was the last entry to get in, so I'm very grateful. And thank you to Tomas Hornos for getting me this opportunity to sail with Josh, I appreciate it a lot. SSL has done an incredible job. This is one of the coolest sailing events I think I've ever been to. I just pray that I can qualify for it next year. I mean everybody's here: you got Robert Scheidt, Freddy, Mark, you got Luke Patience. Everybody is here. Everyone who's ever won anything comes to this event. I think this is one of the coolest events going on in the world. I've done three World Championships this year, won one of them, and this was tenfold harder than any of the Worlds we competed in as far as having a shot to get on the podium and to win. Like I said, next year the preparation beforehand going into it is going to make a huge difference.
How much did you learn this week?
I learned a lot. I learned a lot about the boat, the techniques, the strategy, the tactics. Being able to commentate on the finals was a real cool opportunity, to watch it from the Livestream and the 3D animation, to get a different perspective. And to be able to commentate with Luke Patience and Digby was a really cool chance. I'm glad I got to help out with the finals and the awards. And take the kids out. That was probably the coolest thing of the whole week – being able to the local kids out for a sail and give 'em a broader perspective on what's going on outside of the Laser and where they can go in the future. Because there is money to be made.
So what are you taking home from this event?
Experience. I've also known all these guys for a couple years now. I look up to Augie. I told him when we were standing over there talking to the kids that 10 years ago when I was sitting in the Coral Reef Yacht Club in the Junior Programme, I was in the group of kids off to the side and Augie comes up with Robert Scheidt. They were out Star sailing when the Star was in the Games and they said: "If you keep doing this, this could be your life if this is your passion, if you love it." I took that to heart and here I am racing against them, 5, 10 years later. It's really been a cool turnaround, and to have role models and experience like this in an event like this that promotes the best sailors and gives the kids something to look up to. You know, you gotta have a role model to know what to aim for. And if you don't have the Bruno Pradas out here and the bad asses that go along and win everything then you don't have a goal to chase. I think this is one of the coolest events in any country to look up to and aspire to. This is a phenomenal event. It's a great process. It's a great idea. When it comes to down to it, you got four boats on a one-mile course doing three laps. You got a 7-mile race. And it finishes within 10 seconds of each other! That's what we're here for! This is phenomenal (laughing). I hope I get back here next year! I want to be in the top ranked sailors and I want a shot to go and try to beat these guys.
You have to race to accomplish that.
Exactly. I got to race for the next year. I've been focusing on my pro career aside from the Olympics because in the US, the Olympic funding isn't quite there so it's hard as a young talented guy to really get your first shot to go. You really have to have some financial backing beforehand to get a result, to get funding from the team. So without the base level of funding for junior sailors, we don't really have a great avenue for young people to get to a top level and to compete against the top. You're on your own. If you're rich, you get a shot. If not, you're on your own. It's sad but…I don't come from a great financial background with my family but I've been really lucky to meet the right people and be in the right places and to get opportunities like this, to be here. And this is the greatest opportunity for young people to compete against the best. There isn't anything like it.