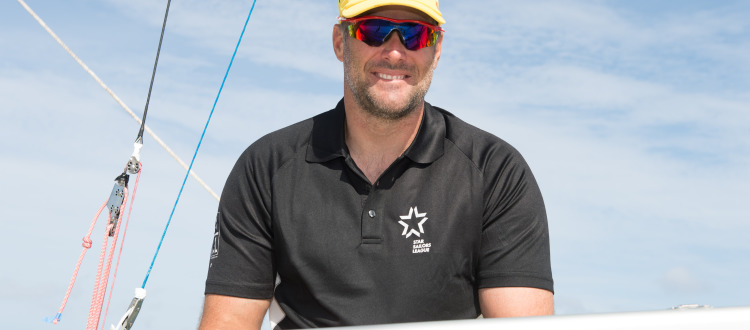 Hi people! The end of last year was very busy with the Star Sailors League Finals, in Bahamas, and many practices for Finn Class, focused on next season.
In December, the top 40 sailors in the world battled for the World League Trophy. There were ten races in the knockout stage and three in the finals. Four Brazilian teams were competing: Torben Grael and Guilherme de Almeida, Marcelo Fuchs and Ron Seifert, Jorge Zarif and Henry Boening, Robert Scheidt and Bruno Prada.
Races were broadcasted live on the internet with a new concept of transmission, mixing real-time images with explanatory graphics, so it was much easier for non-practitioners to understand better our sport.
In the final races, Brazil was the only country to put two teams in the top ten: Robert/Bruno placed second and Jorge/Henry placed fifth. Torben / Guilherme, in 13th and Marcelo / Ronald in 20th were eliminated in the first leg. In the quarterfinals, 11 doubles fought for seven spots in the semifinal, and the two Brazilian teams made it.
In the semi, Robert Scheidt and me, defending champions, placed fifth and didn't make it to the final. The consolation was having Jorge / Henry qualified for the last race.
The Grand Finale was electrifying and Mark Mendelblatt and Brian Fatih (USA) won the race, beating Freddy Lööf / Anders Ekström (SWE) and Mateusz Kusznierewicz and Dominik Zicky (POL).
This fifth place had a bitter taste, but with big defeats come great lessons. This year we have got to improve the preparation for this event. As a consolation, I finished my fourth season as a World ranking number 1 (2006, 2010, 2013 and 2014).
Last December I did many workouts for Finn Class Brazilian Championship in Ilhabela in February, with my partner Jorge Zarif. After that, my next competition is the Bacardi Cup in March, once again alongside Zarif.
Good winds!
This text was originally featured in Lance!