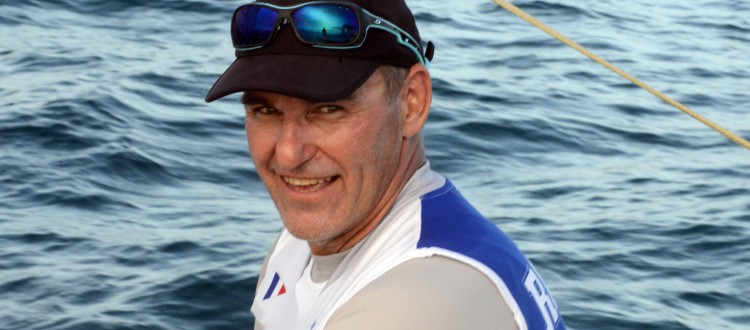 Rohart at the top of his game
Demonstration. That's the first word that comes to mind to describe what Rohart and Ponsot have achieved yesterday for the first day of the SSL Finals 2015. With a score of 1-2-2-(11), they have ideally started this 3rd edition of one of the most exciting sailing event ever.
Rohart, well-known for consistently winning first race in major competitions (he won the inaugural race at the 2012 Olympics), confirmed his status and has made a huge step towards qualification for the Final day. Comfortable in his hunting position for the almost all of the first race of the day, the 47 year old French sailor accelerated when he felt the opportunity for passing Italian Diego Negri was there and fired the first bullet of those SSL Finals.
The reigning European champion arrived in Nassau perfectly prepared, having lost a few pounds and done some aerobic work, and that seems to pay off now. While the conditions were not the usual 15 to 20 knots breeze that made Nassau worldwide known for sailing, the lighter winds definitely favoured the Star specialists as Rohart, Negri and Pepper that stay on the provisional podium after day 1. Indeed, while the Star is pretty straightforward to make go fast in breezy conditions, it becomes much more tricky to master it in light and shifty conditions.
With similar weather forecasted for the two upcoming days of qualifications (final day might be breezier), Rohart can definitely look at the top spot of the Qualification round and the bye it offers to the semi-final. Accessing directly to the second race of the last day would almost ensure Rohart to equal its best performance in the SSL Finals (6th in 2013 and 2014).