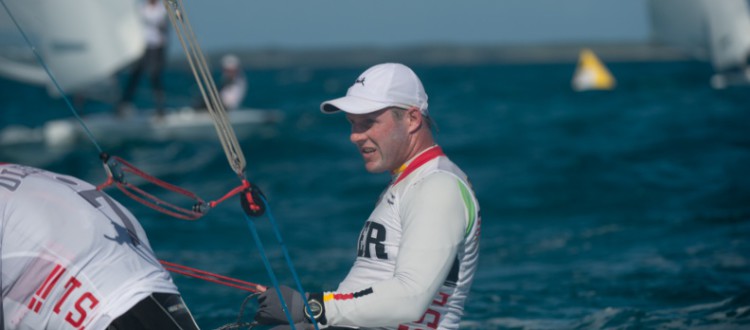 Know the sailors: Robert Stanjek
Robert Stanjek, Born Brandenberg, Germany. Highest SSL Ranking: 3
Robert won the first of his two Silver Stars in 2005 and became Star European Champion in 2008. In 2011 with his partner Frithjof Kleen, the German pair came second in the Star World Championship and represented Germany at the 2012 Olympic Games placing 6th. In 2014, Robert Stanjek & Frithjof Kleen became Star World Champions on Lake Garda. Fir the past ten years, Robert has dedicated his sailing career to the Star Class but has also raced offshore in big boat classes including trials for Volvo Ocean 65 Team Brunel and also taken Line Honours with the record breaking Maxi, Esimit Europa 2.
---
SSL: If you weren't a sportsperson, what would you be?
RS: I would have loved to be a doctor.
SSL: What is the greatest sacrifice you have had to make in order to achieve success?
RS: When you prepare yourself for a big competition you have to live a very ascetic life, which always has the feeling that you become like social illiterate. I hate this!
SSL: What animal fascinates you?
RS: I always wonder about the orientation of birds, how they come and go thousands of kilometres every year, and of course I would love to fly.
SSL: What kind of a person makes you angry?
RS: When someone is unfair I always feel like I have to interfere. I really do not like wrongful people.
SSL: What kind of person makes you happy?
RS: I like people that have an honest interest in things; enthusiasm, passion.
SSL: What was is your favourite memory from another sport?
RS: I like hiking in the mountains or cross country skiing – meditation in nature.
SSL: Is there any specific technique you use when competing to help motivate yourself?
RS: Occasionally, I compete in small competitions like running or cross country skiing and I look for other sport challenges like hiking, canoeing and biking… These kind of smaller goal settings keeps me motivated to train every day.
SSL How many Gold Medals and World Championships is 'enough'?
RS: I haven't won many! If I competed in other sailing classes I think it would be much easier.
For me it is more challenging to race against the best sailors in the world and take a sporting loss than collect an other title.
SSL: A child asks you if Santa Claus is real, what do you say?
RS: I am still telling Frithjof the story of Santa Claus, all the time!

SSL: If you could have a super hero special power what would it be?
RS: To jump through space and time.

---
 
1-6 December 2015 – The third edition of the SSL Finals will take place in Nassau, Bahamas
All SSL events use a qualifying competition followed by a knock-out system. Teams take part in the qualifying rounds, which is a series of races over three days. The top 11 teams progress to the knock-out stage, which has four stages. In one-off races teams are eliminated, until just four teams remain to contest the final. The winner takes home a big slice of the $200,000 Prize Purse.
Watch all the action live from the Star Sailors League Final. With expert commentary from special studio guests. On the water, the latest in hi-tech camera technology, as well as Virtual Eye 3D Graphics, will provide thrilling viewing. Armchair sailors can also join the race with Virtual Regatta.