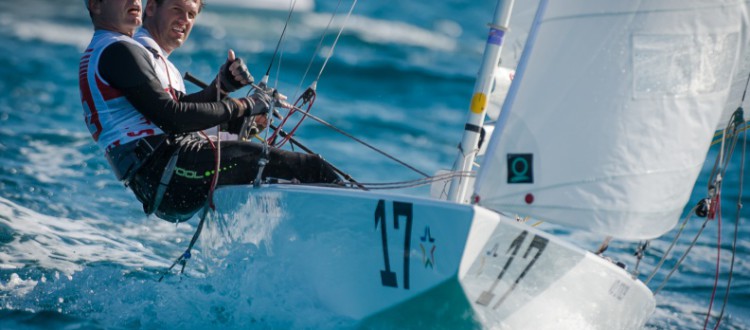 Know the sailors – Dominik Zycki
In December 2015, Dominik Zycki will be competing in the Star Sailors League (SSL) Final in Nassau, Bahamas, it will be Dominik's third final, sailing with fellow Polish Star Sailor, Mateusz Kusznierewicz. The Polish team have come second and third in the two previous editions. The SSL is a new concept in yacht racing, where sailors from the Star Class compete with VIP sailors from other disciplines, such as the Finn and the Laser. All SSL events have a knock-out format and prize money.
Dominik's first Olympic class was the Finn, winning the Junior European Championship in 1993. Dominik has competed in seven Finn World Championships before competing in the Star Class with Mateusz. Dominik and Mateusz has been friends for over 30 years, travelling together to international sailing events. In 2008, Mateusz Kusznierewicz & Dominik Zycki became Star World Champions, and in 2012, Star European Champions.
---
SSL: If you weren't a sportsperson, what would you be?
DZ: Almost for sure I would be an Engineer, designing aircrafts, windmills or yachts, maybe even cars.
SSL: What is the greatest sacrifice you have had to make in order to achieve success?
DZ: I didn't become a real engineer after graduating from University.The other sacrifice is time with my family.
SSL: What animal fascinates you?
DZ: I thing there are many really fascinating animals. First is my dog, a small and skinny Italian greyhound called "Zephyr", unbelievably smart and FAST!!! On the other side I'm always impressed with the gigantic blue whale, the super-fast cheetah or the shape and speed of the falcon.
SSL: What other sports have you done?
DZ: I will always remember memories from two disciplines that are very special for me. First is Cyclotrial, which was the first sport, I trained for. This was a discipline, which my father was competing and I really wanted to follow him, until I found sailing was even better. Skiing is very important to me, with a lot of memories of my family since childhood. We ski-ed mountains two, three times per winter, spending a lot of time together.
SSL: What inspires you?
The best inspiration in sailing is that I can always be better and improve my technique, tactics, strategy and equipment. I also think, that I'm pretty conscientious person, so I do not really need any extra motivation.
SSL: If you could invite people through history for dinner, who would you choose?
DZ: I've never thought about that! When you asked me, first person which came into my mind is Jesus Christ (hopefully not for Last Supper 😉 – who is for sure the most important person for every Christian. I admire also Winston Churchill, but I don't even know, if I would be able to ask him any question during the dinner. There are also few sailor, which I would like to eat dinner with; Russell Coutts and Ben Ainslie.
SSL: A child asks you if Santa Claus is real, what do you say?
DZ: They don't ask, till they are 5-6 years old (this is my experience with my three daughters). Then they suddenly start to know by themselves, that all "Santas" are fake, but they know that during Christmas they get presents anyway. So at that age I always explained to them the real story of Saint Nicolas and this was a good explanation for them.
SSL: If you could have a super hero special power what would it be?
DZ: Physically it would be super power for my legs and abdominals. Most important in sailing, and the weakest part of my body, unfortunately. I have always missed these muscles, even when I was training like hell.Mentally it would be a superpower to predict all the wind shifts 😉 But I'm afraid, that then sailing would become boring. 
---
1-6 December 2015 – The third edition of the SSL Finals will take place in Nassau, Bahamas
All SSL events use a qualifying competition followed by a knock-out system. Teams take part in the qualifying rounds, which is a series of races over three days. The top 11 teams progress to the knock-out stage, which has four stages. In one-off races teams are eliminated, until just four teams remain to contest the final. The winner takes home a big slice of the $200,000 Prize Purse.
Watch all the action live from the Star Sailors League Final. With expert commentary from special studio guests. On the water, the latest in hi-tech camera technology, as well as Virtual Eye 3D Graphics, will provide thrilling viewing. Armchair sailors can also join the race with Virtual Regatta.