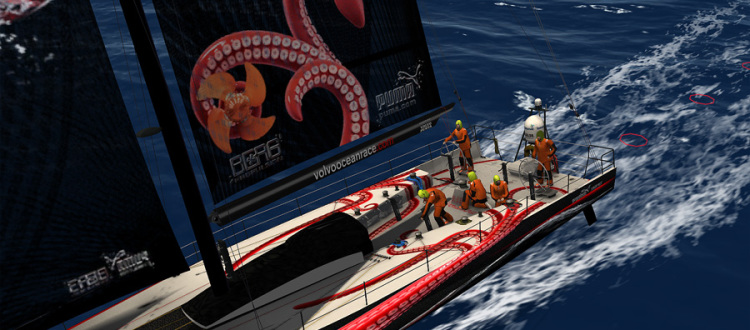 Virtual Eye, the pearl of Dunedin
Dunedin is a pretty town in the region of Otago in the South Island of New Zealand. Not many people would think that one of the company that changed the face of the broadcasting industry was founded, and still has its headquarters, there. Virtual Eye, because that's them I am talking about, is probably of the one leading company in the kiwi high-tech landscape. Virtual Eye is in fact the sport division of Animation Research Limited (ARL) and they are active in sailing, golf, cricket and Formula 1 with their amazing realistic 3D graphics.
They have recently completely re coded their program to offer an even better 3D tracking system to the followers of the Volvo Ocean Race 2014-2015. Prior to that, they have developed and ran the AC Liveline during the last America's Cup in San Francisco, using state-of-the-art computer assisted rendering to provide an immersive point-of-view of the breath taking Match Race competition.
---
The Virtual Eye sailing system (developed since 1992) has become a turnkey solution for sailing events worldwide. Virtual Eye, often only associated with the Americas Cup and the Volvo Ocean race, has evolved into an easily deployable system at any event. Some of these include the Audi MedCup and world tour events like the Monsoon Cup, the Korea Cup and the Louis Vuitton Trophy Series.
What Virtual Eye Shows
The Virtual Eye sailing system gives people with or without an understanding of sailing an opportunity to truly experience every moment of a race. Virtual Eye can show an entire race course, including marks, laylines, advantage lines and distances between the boats. Virtual Eye also displays timing information from starts, mark rounding and finishes. All of this information is available in real-time for immediate review and post-race analysis.
GPS and Data Network
Working with Igtimi Ltd. we have developed a highly accurate and reliable delivery system. Tracking data can be sent at a rate of 1-10 times a second, and the tracking system is capable of transmitting this data over a dual network. This provides us with the quality and redundancy required to create Virtual Eye's graphics.
Source: Virtual Eye official website