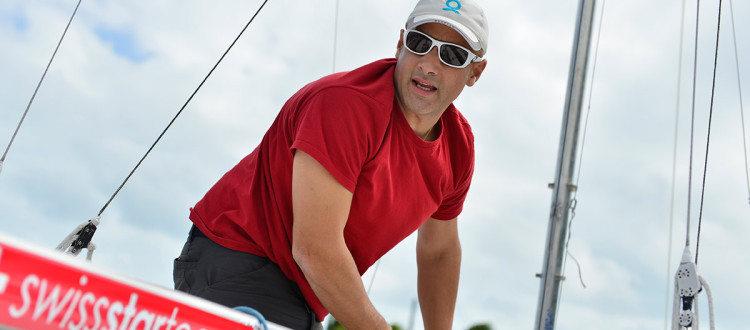 Catching up with Torben Grael and Diego Negri only 2 days before the start of the SSL Finals 2014
There are now just 48 hours to go to the start of the second Star Sailors League Finals and the air at the Nassau Yacht Club is fairly buzzing with expectation. Tension is building for a regatta that will go down in the history not only of the class, but also the Bahamas and sailing itself. Aided and abetted by a good fresh wind which looks like it will be with us for another couple of days, and the arrival in dribs and drabs of the champions sure to make this a truly unique and memorable event once again. This may just be the largest group ever of such high-level sailors in one event. That fact alone will guarantee a fabulous show, streamed live and at very high quality on the four days of racing with extra input from Virtual Eye. This is the kind of sailing everyone adores and that is accessible to all. And now it is even easier for the public to enjoy and understand.
After the first deceptively relaxed test and setup days, we spoke to two of the protagonists about how they were feeling: Torben Grael (BRA), the Brazilian champion with 5 Olympic medals to his credit in addition to a Volvo Ocean Race with Ericsson 4 and the Louis Vuitton Cup with Luna Rossa, and Diego Negri (ITA), an expert Star sailor, vice-World Champion in 2014 and #1 on the Star Sailors League ranking list.
Interview with Torben Grael

"After a break, we began sailing more consistently in 2013 and then upped it again this year so that we took part in the North American championship. Then we also had various regattas in Brazil, including the district and national championships and the World Championship at Malcesine."
How does it feel to be competing in the Finals?
"It is great to be competing at this level again even though time is very tight for both of us for obvious reasons. Practically speaking we'll be spending more days on the water competing than we did for training. But it's enough to have fun."
How was your first outing in the Bahamas
"Good wind, good waves. Almost four hours. Great fun. We haven't sailed in these conditions for a while now. In Brazil, where we live, it's a bit lighter. Over the next few days, we won't be just tuning the boat but getting a handle on things too."
Expectations?
"It's a fleet of genuine champions and so it's a big challenge. When the standard is this high, it's always fantastic but also more difficult. I really can't predict our level yet if the wind stays this high. We'll see."
Brazil is lining out Robert Scheidt, Torben Grael and another very promising youngster…
"Jorge Zarif is a fantastic Finn sailor but he'll do very well here too. He has a highly experienced bowman. I think he'll be competitive all right."
Brazil produces a lot of champions
In Brazil, we've always had a very high standard in the Star. And that's what makes it so interesting and fun. It's a technical boat in which the experienced sailors can really use what they know. I think that's why so many people like it.
Interview with Diego Negri
How do you find the Bahamas this year?
Excellent. Having been here last year is an advantage. We know the racing field…and we immediately went back to all the best places for dinner in the evenings too!
What's your plan in the build-up to the racing?
We'll be devoting the next couple of days to getting the boat right. It's not the same one we used the last two years but it is a very similar Folli. At the moment it seems to be going very well and, rule-wise, we almost immediately found the right setting.
Any concerns?
We have to get a handle on these conditions. The wind forecast for the entire week is at least 18 to 20 knots. It doesn't often happen that you'll have such a high wind so steady for so long. But we have an advantage over a good section of the fleet because we raced in the Star throughout the entire season. But we will have to take some time to get used to the conditions.
Expectations?
Every regatta has its own story. We tried to prepare for this event as best we could too. Clearly, other commitments and availability issues mean we couldn't devote ourselves full time but we still did everything possible to get ourselves physically ready. And the materials are pretty good too.
What do you think of this event?
First and foremost, it brings the Olympic fleet back together again plus there are excellent wildcards too: all youngsters, mostly from the Finn, who are in brilliant shape because they are facing into an Olympic campaign. Even the latest arrivals are hugely technically skilled: they won't have any great difficulty in mastering the boat. They all deserve a mention. Grael always has an ace up his sleeve and could be a real surprise. Scheidt is the same. Even though he is dedicating himself to the Laser, he's still the reigning SSL Finals champion. Kusznierewicz, on the other hand, is a real departure from the norm: the less he sails, the better his results in competition!
What do you think of your position on the ranking list? 
I really had to sweat for it. I started off quite low in 2013 and I struggled to get to the section of the fleet that went forward to the finals. Then in this very event last year (which gives you more points than any other), we did brilliantly with our first victories in the series, and we got to the final race with just four participations. That made us committed. We kept sailing and getting results and we're still having fun. Nonetheless, the number can be an advantage because the others are watching you. They focus on you more and everyone knows we are fast. One more reason for us to give it our all.
You've grown, hand in glove with a very skilled bowman.
Sergio [Lambertenghi] didn't need to do much growing, frankly. He already had huge experience. But maybe he had never met a helmsman that could bring him to such a high level before. He was a bit of an ugly duckling who turned into a swan. I have to acknowledge that he really took all the workload and commitments we set ourselves to move up the ranking and be part of the fleet for the Finals, in his stride. Overall, we've exceeded all expectations. We came within a hair's breadth of the world title in July, we won the Eastern Hemisphere in Switzerland and now we're back here, still ambitious and still hungry for results….