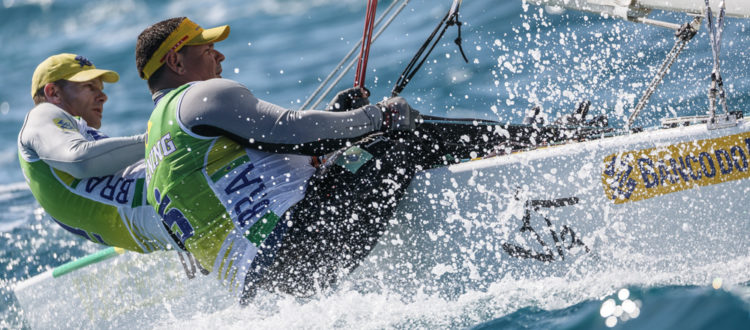 ROBERT SCHEIDT IS ATTENDING THE SSL FINALS FOR THE FOURTH TIME
With five Olympic medals and 14 world titles Robert Scheidt is one of the best athletes ever produced by Brazil. His first Olympic achievements were on the Laser, then he was joined by his long time crew Bruno Prada (BRA) and went on winning in the Star Class. When the Star was cancelled from the Olympics, Robert followed his Olympic drive and went back to the Laser. This move took him straight to the 2016 Olympic Games in Rio de Janeiro where he finished fourth, almost winning his sixth medal, the one goal no sailors has so far obtained. At 44, Robert Scheidt, is taking on yet another challenge: Tokyo 2020 Olympics on a 49er.
Once in a while, he enjoys sailing back on the Star, and he attended the SSL Finals three times: he won the first edition in 2013, he was then fifth in 2014 and was bronze medal last year, sailing for the first time with Henry 'Maguila' Boening (BRA) – who was fourth in 2014 crewing for Brazilian Finn sailor Jorge Zarif.
Robert Scheidt will attend his fourth SSL Finals this coming December in Nassau, Bahamas, racing once again with Maguila, trying to win it for the second time, and get the revenge on that last beat of the last race last year, where he lost his second title he was then holding, and basically giving it to American Mark Mendelblatt, who had also won it already in 2014.
The fifth edition of the SSL Finals will take place from December 4th to the 9th in Nassau, Bahamas, with a $ 200,000 prize purse, $ 40,000 to the winning team.