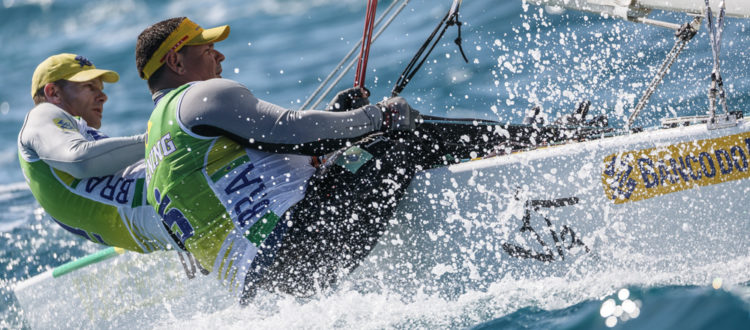 Robert Scheidt & Henry Boening (BRA) lead the Qualifying Rounds of the SSL Finals 2016 after a stellar performance in Montague Bay, Nassau, Bahamas. Despite winning races today, Diego Negri & Sergio Lambertenghi dropped to second place as does Mark Mendelblatt & Brian Fatih (USA), dropping to third. Seven hours of intense racing, in the tropical heat of Montagu Bay, tested the physical and mental resolve of all the teams. Five of the top ten teams are VIPs invited to the SSL Finals.
 
Mark Mendelblatt:
"There was only one race today that saw us out of the top five, it was a great day for us, a nice breeze out there, we started pretty well, we are sailing conservatively, we're half way through the series and we have a chance to win which is quite important with this format. I love being back, it's hard, especially with four races, but they're great boats."
 
Three VIPs teams lead the chasing pack behind the top three, albeit 20 points behind.Jonas Høgh-Christensen (DEN) & Stevie Milne (GBR) lead the group of invited teams. Facundo Olezza (ARG) & Federico Melo (POR) and Tonci Stipanovic & Ante Sitic (CRO) both had superb results today finishing fourth and fifth respectively. The Croatians rise today was meteoric. Starting the day in a lowly 21stposition, the Laser Silver medallist Stipanovic, steered the team to four top ten finishes, including two podiums.
 
Lighter shifty conditions prevailed today, with the general trend being a fall in wind speed and shifting south. Getting a good start is paramount in the SSL Finals and in light winds, clear air becomes a precious commodity. Robert Sheidt & Henry Boening consistently won the favoured side at the start, posting four podium finishes including their second bullet in the last race.
 
Vasilij Zbogar (SLO) & Zsombor Berecz (HUN) had a day to remember, scoring three top ten finishes, including an epic win in Race 5, to break into the top ten, after six races.
 
Vasilij Zbogar:
"Yesterday was a nightmare..I didn't know the runners could be locked on, so every time I tacked I had to put on the runner, release the inner runner, adjusting all of the time, so I pretty much spent the day adjusting the mainsail. Today was much easier, and winning was great! We managed to have some good starts, we found really good speed in this conditions. Downind we were flying by the end, working hard, Zsombor was jumping on the boat like Spiderman, it was good."
Johannes Polgar & Markus Koy (GER) dropped from fourth overall to eighth after a difficult day on the water. However they are the top German team by a big margin.
 
Johannes Polgar:
"We were consistent until today's last race, we were pretty much up there, then we lost a few places. Towards the end we caught a big patch of seaweed on the keel. However we get a discard, don't we? So that's ours. Our goal is to be in the top 10, just like anyone else."
 
There are five more races scheduled over the next two days before the top ten teams qualify for the SSL Finals. Currently sitting in the hot seat are Mateusz Kusznierewicz & Dominik Zycki (POL), they've been on the podium to almost every SSL events. 
Racing at the SSL Finals 2016 continues tomorrow with the second day of the Qualifying Rounds. A maximum of four races are scheduled for tomorrow with live coverage starting at 1100 (GMT-5).
 
 
Full coverage of all five days of action will be streamed live on the Internet with expert commentary from special studio guests, including America's Cup four time winner Dennis Conner and Olympic silver medalist in London 2012 Luke Patience. On the water, the latest in hi-tech camera technology, as well as Virtual Eye 3D Graphics, will provide thrilling viewing.
 
Since our audience is present in all parts of the globe, Internet will be our stadium. From November 29th to December 4th, regattas will be streamed live on http://d40hnzgvx.preview.infomaniak.website. A complete live video stream of the races as well as additional insights provided by the state-of-the-art tracking system developed by Virtual Eye for the America's Cup will allow people from over the world to follow their favorites and to cheer for them. Many prestigious sailing websites around the globe will also share our live broadcast on their homepage.
For more information visit
finals.starsailors.com