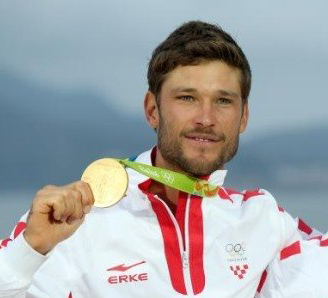 Count Down To SSL Finals – Croatian Gold Medalist Sime Fantela Confirmed
Sime Fantela will be competing with fellow Croatian, Antonio Arapovic, at the SSL Finals 2016 in Nassau this December. Sime Fantela, competing with Igor Marenic in the 470 Class, brought home Gold from Rio 2016 for Croatia. The long-time friends came out on top in a strong fleet to claim Croatia's first ever Olympic sailing gold medal. Rio 2016 was a fantastic event for the Croatian sailing team, as Tonci Stipanovic, who is also taking part in the SSL Finals, also claimed Silver in the Laser Class in Rio. Sime will be one of 16 Olympic medalists taking part in the SSL Finals 2016 and the Croatian gold medalist is relishing the prospect. 
"I heard about the Star Sailors League from Tonci Stipanovic and Ivan Gaspic, they told me about how they have been competing for the last two years and that it was always good racing with top sailors. So I'm really honored and pleased to be invited this year and I'm looking forward to racing in Nassau and meet up with all the guys and the organizers as well.
I have been sailing with Antonio Arapovic on big boats and I have known him from many years so we are quite good friends. We had a few days training in Croatia in the Star, so maybe I have sailed about five days in total, as I have never sailed in the Star Class before. I think we will be a good team but might be tough in windy weather as we will be 25-30 kilos underweight but we will do our best in light winds and try to come on top in stronger conditions. Coming from the 470, it is pretty similar in that they are both technical boats. The big difference is going to be downwind where the 470 is with spinnaker, the Star is just with main and jib. We will try to tune up the boat as best as possible to be fast, I believe that there are ways to tune up the boat and sails to minimize the difference in weight.
My main goal is really to enjoy the new class and enjoy the new event in the Bahamas and meet the best sailors in the world, all in one spot. Actually racing with them is really unique in a regatta, to race against the top guys will be a great privilege. It will be my aim to give my best in this very good circumstances and conditions.
The knockout format is something new for me so I'm looking forward to it. I don't know how I will feel after doing the races but I like trying out new things, so for now I'm looking forward and am pretty excited to do it. I want to thank the organizer for producing such a wonderful event in sailing, it's a big thing to organize this, and I applaud them for the initiative."


WATCH THE SSL FINALS 2016 LIVE!
November 28 – December 4
50 of the world's top sailors, representing 17 different countries, will battle it out over five days of racing including a thrilling last day knockout format. The winner will take away the lion-share of the $200,000 Prize Pot.  Full coverage of all five days of action will be streamed live on the Internet with expert commentary from special studio guests, including America's Cup four time winner Dennis Conner and Olympic silver medalist in London 2012 Luke Patience. On the water, the latest in hi-tech camera technology, as well as Virtual Eye 3D Graphics, will provide thrilling viewing. Armchair sailors can also race the course with Virtual Regatta.