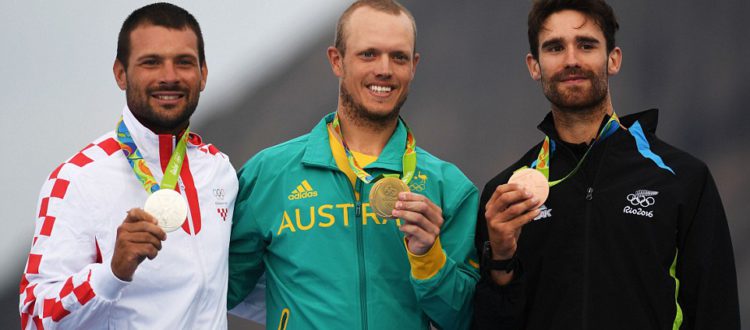 Count Down to Nassau – Rio 2016 Laser Podium At SSL Finals
It is a great honour for the Star Sailors League to welcome the whole Olympic Games Laser podium in Nassau from November 28th to December 4th. They will raise the challenge, coming from a class where the competition is very strategic and fiery, with so many boats on the start line and at mark rounding. Tom Burton (AUS), Tonci Stipanovic (CRO) and Sam Meech (NZL) respectively gold, silver and bronze medal in Rio 2016, will be among the VIPs skippers racing at the SSL Finals 2016.
Laser sailors are all very similar around 80 kg, 6 feet tall, and very fit. The International Star Class Official Formula to calculate maximum Crew weight is (100 – Skippers Weight in kg) / 1.5) + 100. This means that the average Laser sailors, helming a Star, needs a very big bowman of around 110kg.
Tom Burton's (AUS) win in Rio was a bit of a surprise with Tonci Stipanovic (CRO) leading the Laser Men ranking for the whole Olympic week, but in the medal race, the Sydneysider played a great strategy and managed to get Stipanovic stuck in the pack while finishing in 3rd spot with a six points gap with the Croatian, when he only needed five. Burton lives in beautiful Sydney, and has always been around boats to follow his dad's passion for sailing. His first boat was a Sabot when he was only 8 years old and began competing at 13, proving since dawn he was a talented helmsman. He got his first Laser at 17, finishing 4th at Radial Youth World Championship in Takapuna, NZL. The next year he was Australia Youth Champion on Laser Standard and since he got his high school diploma he's been trying to go to the Olympics and win a Gold medal. He succeeded at the first attempt, we'll see if he will be talented and lucky enough with the first time at the SSL Finals with crew Andrew "Dog" Palfrey (AUS).
Tonci Stipanovic (CRO) turned 30 just a couple of months before winning the first ever sailing Olympic medal in Rio for Croatia, on August 16th, 2016. It wasn't his first Olympic Games, he ended up 4th in London in 2012, but this past summer "it felt different" Stipanovic admits. He was focused, calm and leading since the beginning, a difficult medal race didn't let him take home the prize he was aiming for – and felt his already. But with great sportsmanship he said to his coach "if I had won gold, in the next 4 years what I would be looking and training for. We still have a goal to reach". Stipanovic finished with a great 4th place at SSL Finals 2015, this time he will be sailing with Croatian crew Ante Sitic (CRO) and we expect to see that 4th spot improving..
The bronze medal for Laser in Rio went to New Zealand young sailor Sam Meech, born in 1991 in Portsmouth, England. He lived for some years on a house boat with his family and with her sister – also an Olympic sailor – they attribute their affinity to water to this period of their lives. He attended Tauranga Boy's College with fellow Olympic sailors Peter Burling and Jason Saunders. Representing New Zealand at the Olympics in Rio was a big challenge for Meech who had to defeat his close friend Andy Maloney. Meech and Josh Junior (7th in Finn class in Rio) made up the last two Olympic nominees of the New Zealand sailing team in May 2016. Meech is the first Kiwi sailor to win an Olympic medal in the Laser class. His sister, Molly Meech, also won a silver medal for New Zealand at the 2016 Olympics in the 49erFX class alongside Alex Maloney, the sister of Andy Maloney. Sam Meech will sail the SSL Finals with kiwi Finn bronze medal in Barcelona 1992 and America's Cup two times winner Craig Monk (NZL), who won a silver medal at the Star World Championship in 2009 with Hamish Pepper (NZL).
25 teams will be competing at the SSL Finals 2016, the top 12 Star Sailors of 2016 and 13 wild cards drawn from every aspect of the sport. After four days of racing for all, the competition goes into the knockout stages. Single races decide who survives and who is heading for the dock. The last four teams will contest a thrilling final race, the first to finish will be the winner of the SSL Final 2016 and take home a lion's share of the $200,000 Prize Purse.