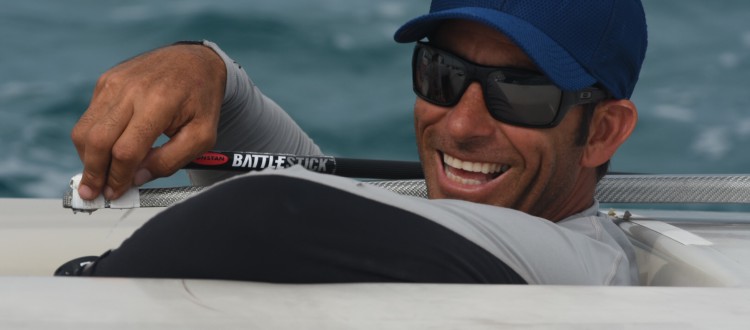 SSL Finals Day 3: 11 finalists confirmed
SSL Finals 2015
Nassau Yacht Club – Bahamas
1 – 6 December 2015
SSL FINALS 2015 DAY 3
11 FINALISTS CONFIRMED
Eleven Star Sailor teams will decide the Star Sailors League Finals in Nassau tomorrow. Today, Principle Race Officer, Sharon Bourke, called off racing at 14,30 local time, but sailors were sent back in a couple of hours earlier when thunderstorms were forecast.
The deciding day of the SSL Finals will take place tomorrow, Saturday 5th of December, with two knock-out stages before the four remaining teams progress to the final.
All of the rounds tomorrow are one race – knock outs.
The eleven finalists:
1 – Xavier Rohart – Pierre-Alexis Ponsot (FRA) 20.00
2 – Diego Negri – Sergio Lambertenghi (ITA) 26.00
3 – Mateusz Kusznierewicz – Dominik Zycki (POL) 28.00
4 – Hamish Pepper – Bruno Prada (NZL – BRA) 32.00
5 – Jochen Schümann – Ingo Borkowski (GER) 32.00
6 – Jean-Baptiste Bernaz – Pascal Rambeau (FRA) 33.00
7 – George Szabo – Edoardo Natucci (USA – ITA) 34.00
8 – Paul Cayard – Brian Sharp (USA) 48.00
9 – Tonci Stipanovic – Massimo Canali (CRO – ITA) 51.00
10 – Ian Williams – Steve Mitchell (GBR) 52.00
11 – Johannes Polgar – Markus Koy (GER) 53.00
Xavier Rohart – Pierre-Alexis Ponsot won the qualifying stages and will get a bye for the Quarter Finals. The top six teams in the ten-boat Quarter-Final will progress to the Semi-Final to be joined by Rohart-Ponsot. The top four teams from then go through to the final.
All the action is freely available on the internet and continues tomorrow with Quarter Finals scheduled to start at 11.00 local time. With expert commentary from special studio guests. On the water, the latest in hi-tech camera technology, as well as Virtual Eye 3D Graphics, will provide thrilling viewing. Armchair sailors can also join the race with Virtual Regatta.
XAVIER ROHART
"The Qualifications Round is over, so we are half way to our goal. We wanted to do well in the first part, and we have won it, so it's perfect. With this format though, nothing is set, from tomorrow we all start at the same level, we have a small advantage compared to the others, but the exciting bit of this format is that anyone can win up until the last race: that's my goal."
For more information visit the official SSL website www.starsailors.com
Rachele Vitello
Press Officer | Star Sailors League SA
rachele.vitello@starsailors.com | starsailors.com
Maison du Sport International | c/o Libra Law
Av. de Rhodanie 54 | 1007 Lausanne
Olympic Capital | Switzerland
M +393282140680
S rakvit99