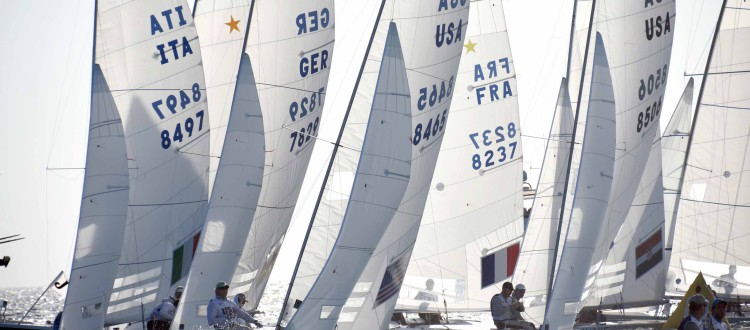 SSL Finals Day 2: Close Racing In Paradise
SSL Finals 2015
Nassau Yacht Club – Bahamas
1 – 6 December 2015
The second day of the Qualification Rounds for the SSL Finals proved to be an intricate game of chess for the star studded cast from nine different nations, boasting nine Olympic Medallists and even more world champions. The penultimate day of the Qualification Rounds, once again featured three different winners including two bullets from VIP entries. The racing was incredibly close with the entire fleet compressed at virtually every mark rounding
Rohart & Ponsot (FRA) started the day as leaders of the regatta and retained their lead. Negri & Lambertenghi (ITA) retained 2nd overall. Kusznierewicz & Zycki (POL) moved up to 3rd overall after another consistent day. Pepper & Prada (NZL-BRA) dropped to 4th but are still the top VIP entry. VIPs, Schümann & Borkowski (GER) had a stellar day, scoring 5-6-1, to lift the German team up to 5th. Bernaz & Rambeau (FRA) and Szabo & Natucci (USA-ITA) finished the day 6th and 7th respectively, 20 points clear of the drop zone. Three teams of SSL VIPs got in the groove today, lifting them into the top ten: Cayard & Sharp (USA) and Stipanovic & Canali (CRO-ITA) and Williams & Mitchell (GBR).
Polgar & Koy (GER) finished the day in the "ejector seat" 11th place, the last qualifying spot for the final day on Saturday. Gaspic & Sitic (CRO) started the day with a win and by the close of play are 12th, hoping to climb the leaderboard tomorrow.
There was drama right from the start, Principal Race Officer Sharon Bourke raised the I-flag after a General Recall for Race 5 and in the restart, Rohart & Ponsot believing they were over returned to re-start the race. However the X-Flag remained aloft, indicating that other teams had infringed. At the first top mark, Diaz & Baltins (USA) and Kontides & Strube (CYP-USA) were disqualified. Gaspic & Sitic (CRO) went on to win Race 5. Rohart & Ponsot (FRA) came back to win Race 6 and Schümann & Borkowski (GER), delivered a master class to win Race 7.
QUOTES
SERGIO LAMBERTENGHI (ITA)
"We are not 100% sure that we will make the cut, but we have very good chances. Then on Saturday everything starts from zero and each race can be the last one. The Quarter Final will be tough with 10 teams, and from there I think it will be easier until, hopefully, the final."
IVAN GASPIC (CRO)
"In Croatia we say 'if you see a bird flying it doesn't mean it's spring outside'. Today was a bit better, but I still need to gain some feeling with the boat in light wind and waves, but it's ok I am looking forward to tomorrow, we are in a not bad position and hopefully the conditions will help us. We have nothing to loose and for sure we are going to race tomorrow at full steam!"
JORGE ZARIF (BRA)
"Today we had a problem before Race 1 and we had to put down the sail and when we hoisted back up I moved the rudder to go in the right direction and we broke the tiller in the middle: it was a bad start. We had an okay race around the 10th position but the third race was as bad as all of the races this week.. I am happy anyways to be here, Nassau is beautiful and I am competing with amazing people, I am just frustrated with the results.."
Racing in the Qualification Rounds will conclude tomorrow with a good chance of two races deciding the 11 finalists. Rohart & Ponsot (FRA) cannot be eliminated but the lure of a bye for the Quarter Finals is a worthy prize. Last year 71 points was enough to make the final day and using that statistic Gaspic & Sitic (CRO) and Diaz & Baltins (USA) would still be in the running to make the final day on Saturday, with a $200,000 Prize Purse.
For more information visit the official SSL website www.starsailors.com
Rachele Vitello
Press Officer | Star Sailors League SA
rachele.vitello@starsailors.com | starsailors.com
Maison du Sport International | c/o Libra Law
Av. de Rhodanie 54 | 1007 Lausanne
Olympic Capital | Switzerland
M +393282140680
S rakvit99