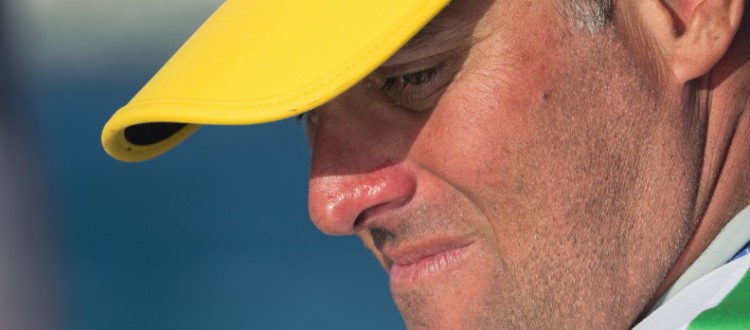 Know the sailors: Bruno Prada
Bruno Prada, born São Paulo, Brazil. Highest SSL Ranking: 1
Bruno is one of Brazil's most decorated sailors, winning more than 100 titles in three decades of sailing: Olympic Silver in Beijing (2008) and Bronze London (2012). Bruno alongside Robert Scheidt has won three Star World Championships and Bruno came desperately close to a fourth with Augie Diaz last year, leading the 87 boat fleet going into the last race, but ending up fourth overall. Bruno also won the Star European Championship in 2009. Bruno will be competing in his third SSL Finals this December with New Zealand skipper, Hamish Pepper.
---
SSL: If you weren't a sportsperson, what would you be?
BP: Business man, I have been already sharing my time between sailing and business.
SSL: What is the greatest sacrifice you have had to make in order to achieve success?
BP: Staying away from my wife and kids.
SSL: What animal fascinates you?
BP: Dolphins: fast and funny.
SSL: What kind of a person makes you angry?
BP: Skippers!
SSL: What kind of person makes you happy?
BP: People that have the mode of Augie Diaz.
SSL: What was is your favourite memory from another sport?
BP: Track and field, 800m in the 1984 Olympics, the Brazilian Joaquim Cruz won the gold. It was the first Olympics that I have followed and he's been my idol ever since.
SSL: What song inspires you?
BP: Rock and Roll, makes me intense.
SSL: Is there any specific technique you use when competing to help motivate yourself ?
BP: Concentration and focus.
SSL: If you could invite someone for dinner, who would you choose?
BP: Andre Agassi.
SSL: How many Gold Medals or World Championships is 'enough'?
BP: Never enough.
SSL: A child asks you if Santa Claus is real, what do you say?

BP: Of course it is…why?
SSL: If you could have a super hero special power what would it be? 
BP: Be alive longer, 200 years.

---
1-6 December 2015 – The third edition of the SSL Finals will take place in Nassau, Bahamas
 All SSL events use a qualifying competition followed by a knock-out system. Teams take part in the qualifying rounds, which is a series of races over three days. The top 11 teams progress to the knock-out stage, which has four stages. In one-off races teams are eliminated, until just four teams remain to contest the final. The winner takes home a big slice of the $200,000 Prize Purse.
Watch all the action live from the Star Sailors League Final. With expert commentary from special studio guests. On the water, the latest in hi-tech camera technology, as well as Virtual Eye 3D Graphics, will provide thrilling viewing. Armchair sailors can also join the race with Virtual Regatta.