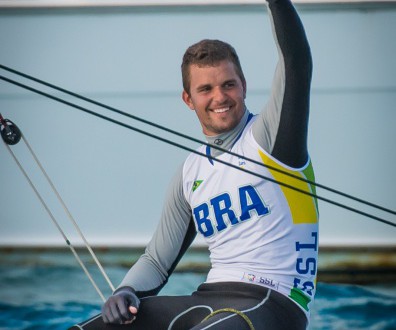 Know the sailors: Jorge Zarif
Jorge Zarif, born São Paulo, Brazil. Highest SSL Ranking: 7
Jorge is the only modern day Finn sailor to have won the Finn Gold Cup and the Junior Finn Championship in the same year (2013). Still only 23 years of age, Jorge is a four-time national champion and two-time South-American champion in the Finn Class and will be representing Brazil in Rio de Janeiro for the 2016 Olympic Games. Jorge also represented Brazil in the 2012 Olympics.
Jorge competed with Henry Boening at the 2014 SSL Finals, coming fourth, beating his idols, Robert Scheidt & Bruno Prada. Jorge Zarif & Henry Boening will be competing at the third SSL Finals in Nassau this December.
---
SSL: What sacrifices have you made to become a world class sailor?
JZ: My life over the last couple of years has all been about training and racing. I don't see my family and friends regularly. I don't go to parties as a normal young person would go, It's hard to have a girlfriend (which may be good) and train 3 times per day, 6 days a week; it is quite challenging, especially doing it alone sometimes. Finding the motivation and concentration to make it all 100% is not easy.
SSL: What animal fascinates you ?
JZ: The white shark because of its very effective attack techniques.
SSL: What kind of person makes you happy or angry?
JZ: I don't like people who just focus on problems but people who focus on the solutions make me happy.
SSL: What sporting moment or sporting person away from sailing inspired you?
JZ: Gabrielle Andersen running the olympic marathon in 1984, the scene of her trying to finish, then saying no to a rescue before falling just after the finish is quite a strong image for me and represents a lot about what sport is all about. Rocky Balboa inspires me because you can fall but you must always stand up and Ayrton Senna is one of my idols.
SSL: How many Gold Medals or World Championships is 'enough'?
JZ: I dont know, depends on the person, Robert Scheidt has 12 worlds and still wants more, I can say one World Championship is not enough for me.
SSL: A child asks you if Santa Claus is real, what do you say?
JZ: Of course! Try to stay up! He comes on the 25th.
SSL: If you could have a super power what would it be?
JZ: I would like to have the strength of my crew Henry Boening!
---
 
1-6 December 2015 – The third edition of the SSL Finals will take place in Nassau, Bahamas
All SSL events use a qualifying competition followed by a knock-out system. Teams take part in the qualifying rounds, which is a series of races over three days. The top 11 teams progress to the knock-out stage, which has four stages. In one-off races teams are eliminated, until just four teams remain to contest the final. The winner takes home a big slice of the $200,000 Prize Purse.
Watch all the action live from the Star Sailors League Final. With expert commentary from special studio guests. On the water, the latest in hi-tech camera technology, as well as Virtual Eye 3D Graphics, will provide thrilling viewing. Armchair sailors can also join the race with Virtual Regatta.