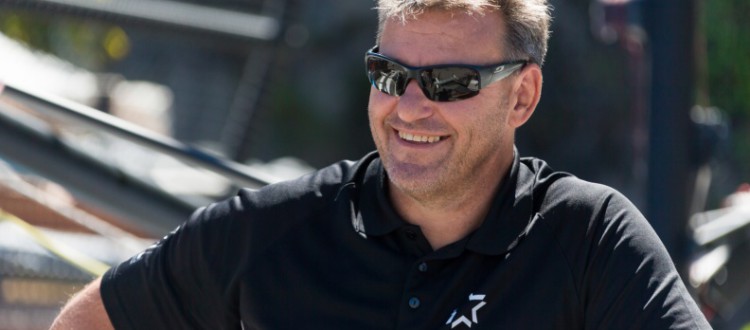 KNOW THE SAILORS: XAVIER ROHART
Xavier Rohart, lives in Marseille, France. Highest SSL Ranking: 1
Xavier has competed at four Olympic Games in the Finn and Star Class winning Bronze in the Finn and also in the Star, in 2004. Xavier won his first Star World Championship in 2003 and has won five Star Class World Championship medals, two Gold, one Silver and two Bronze. Xavier is the reigning European Star Class Champion, winning the event for the first time in Gaeta, Italy in 2015. Xavier Rohart will be competing with Pierre-Alexis Ponsot at the SSL Finals in Nassau, it will be the third time the French pair have competed.
---
SSL: If you weren't a sportsperson, what would you be?
XR: I would have been a offshore captain for big ships !
SSL: What is the greatest sacrifice you have had to make in order to achieve success?
XR: Not nearly enough time with my family.
SSL: What animal fascinates you?
XR: Cats! I like the killing eyes and the softness when you are part of their world, I like how they are sharp to hunt and also so able to sleep!
SSL: What kind of a person makes you angry?
Hum…a person that uses their hierarchy to solve problems… instead of coming to me and to talk about it.
SSL: What kind of person makes you happy?
XR: Every one!
SSL:What was is your favourite memory from another sport?
XR: The movement of a 100 metre hurdler is so fluid, like a fast running river! The power to be on the front row of a rugby team!
SSL: Is there any technique you use when competing to help motivate yourself?
XR: I use all mental techniques around imagery, including sound, image and feeling to push forward and forget pain.
SSL: How many Golds/World Championships is 'enough'.
XR: 1 !
SSL: A child asks you if Santa Claus is real, what do you say?
XR: Of course he is! But believe in yourself and count on yourself and your real friends.
SSL: If you could have a super hero special power what would it be?
XR: Knowing the truth.
SSL: Your favorite meal?
Start with foie gras with a sweet Bordeau white wine of my friend.
Continue with leg of lamb cooked by my wife with Rosemary from the garden and wine Clos
Padulis wine from the vineyard in Corbières.
A trou normand (Calvados – apple brandy from the French region of Lower Normandy)

Roquefort Papillon with apples cooked in sweet sugar accompanied by a sweet red wine.
Finish with my mother's plum pudding.
Bon appetit!
---
1-6 December 2015 – The third edition of the SSL Finals will take place in Nassau, Bahamas
All SSL e
vents use a qualifying competition followed by a knock-out system. Teams take part in the qualifying rounds, which is a series of races over three days. The top 11 teams progress to the knock-out stage, which has four stages. In one-off races teams are eliminated, until just four teams remain to contest the final. The winner takes home a big slice of the $200,000 Prize Purse.
Watch all the action live from the Star Sailors League Final. With expert commentary from special studio guests. On the water, the latest in hi-tech camera technology, as well as Virtual Eye 3D Graphics, will provide thrilling viewing. Armchair sailors can also join the race with Virtual Regatta.