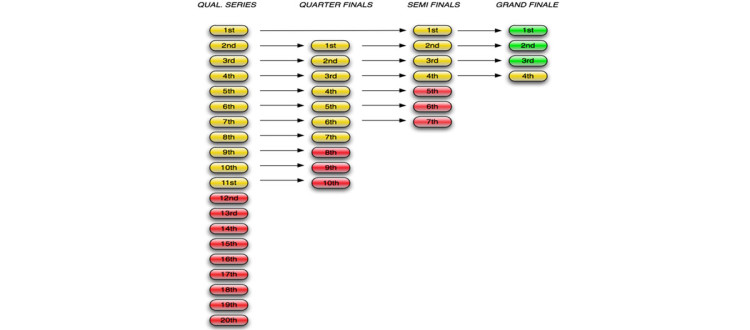 SSL Finals: the race format explained
Once again this year, the racing in the Star Sailors League Finals will begin with a series of 9 races over three days in which all 20 invited teams will compete.
The qualification format was designed specifically to allow teams to get confident on the race field and in the boats. It is particularly suited to the Nassau event in which most of the boats are supplied by the organisers. The same principle also allows teams put together specifically for the event (such as single sailors who have been invited to try their hand in the Star) the time to get familiar with sailing the boat and working together.
The aim of the first 3 days is to establish which crews will go forward to the final day which, once again, will be split into three races but these will be eliminators: the first will see 10 boats lining out, the second 7 and the last just 4.
The big news in 2014 is that the winner of the qualifying races will go forward directly to the semi-final of 7 boats. Consequently, the crews that qualified in second to 11th positions will compete in the quarter-finals but only the best 6 will go forward to the semi.
This is a very necessary new rule because last year, it became clear that 2 or 3 races from the end of the 9 races scheduled, some crews were already mathematically certain of going forward to the finals. This factor might have encouraged them not to take part in the last few fleet races to preserve their energy and equipment. Going directly to the semi-final is a good advantage and so the entire fleet will be doing its utmost to the very last to be the one to benefit from that particular plus.