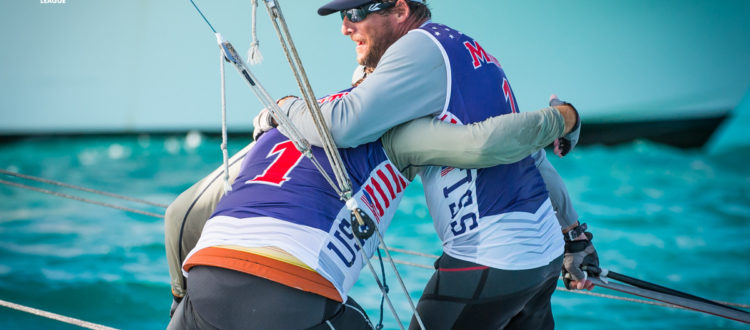 "Go Faster Tips for those Legends? You're kidding, right?"
Such is the depth of quality in the fleet for the Star Sailors League (SSL) Finals coming up in a week's time in the Bahamas, predicting a winner would be a fool's game. Especially in such a sudden-death format as used in the SSL. But among the favourites must surely be the American pair of Mark Mendelblatt and Brian Fatih who somehow have won two of the past four years of the SSL Finals.
It's a very different style of competition to a standard week-long fleet race, so what tips does Mendelblatt have for his rivals, especially the VIP guests to the Star fleet such as round-the-world icons from France, Loick Peyron and Franck Cammas? Or Olympic Champion in the Laser and winner of the past two Moth World Championships, Great Britain's Paul Goodison?
FIGURE IT OUT YOURSELF, CHAMP!
"What?! I'm not giving those guys any advice, they can figure it on their own," laughs Mendelblatt. "It's a jungle, gotta take care of yourself!" So much for brotherly love, Mendelblatt is taking this seriously. "Actually I had a reality check a couple of weeks ago, racing in Miami. I just didn't feel the magic; everything was in place, brand new sails, boat in good shape, and we stepped in for the first winter series event in Miami. Three long races, a brutal day of sailing in 15 to 18 knots, and couldn't quite feel the boat very well. It just felt….difficult, so we've had to go back to the drawing board and figure out a few things."
Mendelblatt and Fatih have continued to rely on the kit that they optimised for the Olympic Regatta at London 2012, but Mendelblatt wonders if things have moved on since then. "Some of the guys have been working really hard in Miami and other places, and maybe we were a bit out of practice and haven't been spending enough time in the boat. We're going to need to step it up a gear for Nassau, that's for sure."
As to some of the newcomers, Mendelblatt has seen the guest VIPs cause a few upsets at past SSL Finals. As former Olympic rivals in the Laser, Mendelblatt has a healthy respect for Paul Goodison's capabilities.  "A guy like Goodison with his team mate [regular Star crew, Frithjof Kleen from Germany] – he'll be a top contender. The VIPs' crews will know how to set the boats up, they'll get plenty of advice from those guys, and they'll all be within 1/10 of a percent of the top end of boatspeed. They don't need any favours."
KEEP YOUR NOSE CLEAN
Pushed a little bit further, however, and Mendelblatt is at least prepared to share some of his approach towards this unique, high pressure competition. "Generally in this fleet, if you try and make a tight cross, you're most likely not going to make it. The guy's probably going to put a hole in you, or protest you, and you're going to be doing circles. One of the ways we've been successful in this regatta is not taking those chances. And not forcing the situation; we try to avoid those situations where it could go either way."
Sometimes even the cautious Mendelblatt approach doesn't always work. "There are a lot of different styles on the race course. I've seen guys throwing in it in there at the weather mark and hope for the best. Sometimes we've done that because we've had no other option but it often ends up in a lot of shouting and penalty turns and we try to avoid that. For sure there are guys coming in more aggressive with nothing to lose. They're going to go for it and I've seen that over the years, but our approach is to stay out of trouble whenever possible."
WHEN TO CROSS
Mendelblatt also knows you're not going to win without taking a few calculated risks. One of those is getting cleanly off the start line in good shape and, if that one worked out, the next big decision is often whether or not you can safely tack and cross the other starboard boats to your right. Tacking angles change enormously in the Star depending on the wind strength, so this is where Mendelblatt's long experience of the Olympic keelboat comes in. "The tack-and-cross decision changes based on a lot of things. For example if you look over your shoulder and you realise the other guy has hit a couple of bad waves and he's stalled out, then you have a much better chance of crossing. If you're sailing into a header and he's just starting to sail into it, you know you're tacking on a lift and he's going to get more headed – you know you can cross him. If it's flat water, you've got a better chance of tacking and crossing. There's a lot of variables to weigh up before you commit to the tack."
THE FOUR-BOAT FINALE
In past years Mendelblatt has fared well in the first four days of competition when it's the whole 20-boat fleet racing together. "It's nice when you win that phase because that guarantees you a place in the four-boat final," he says. "And then we finished second another year which got us a place in the semi-finals, not quite so good but still very useful."
Once in the four-boat final, it's a brutal, sudden-death match where three teams will make it to the podium and one ends up with zilch. "You don't have to worry about a crowded start line, but you do want to position yourself so you get what you want and if you can, try to hurt the guy next to you. Make sure you're ahead of that guy and hopefully ahead of the other two. But mostly the same principles of any racing apply: get the boat locked in, get in the groove, sail fast around the course. Hopefully you end up in front. Once you've got to the final four, winning that race is the only thing that's going to make you happy."
The Star Sailors League Finals take place at Nassau Yacht Club from 5 to 9 December. Tune in at starsailos.com to watch the live coverage and commentary, as 25 star-studded teams go up against each other.
written by Andy Rice, SailingIntelligence.com