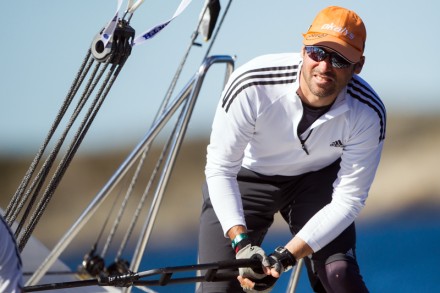 Count Down To Nassau – Swiss Match Racer Eric Monnin Among 25 Skippers At SSL Finals 2016
Eric Monnin (SUI) learned sailing at the age of six on a Surprise yacht, similar to a J24, and by the age of eight was racing. He has participated in many regattas with his father and/or two brothers. He has a PhD in physics and works as an engineer when he isn't sailing, however, his focus for the past decade has been on match racing. 
Eric, along with his team, are familiar faces on the World Match Race Tour. Since joining the Tour in 2006, he has achieved several semi-final spots including a second place at the Argo Group Gold Cup in Bermuda, an event stage that is considered one of the toughest stages on the Tour. He has an impressive resume under his belt, including a 4th overall finish on the tour in 2015 and the wins of several Grade 2 events in Switzerland, but also the prestigious Knickerbocker Cup near New York. On the strength of those results he was once again a Tour card holder on the 2016 World Match Racing Tour season.
Monnin began match racing in the early 2000s when Alinghi was trying to develop match racing among Swiss sailors by creating their Swiss Tour. As a result he sits among the best monohull and multihull match racer. He lifted the D35 Trophy twice in 2005 and 2006 as a helmsman and tactician. 
Eric Monnin will be racing on a Star boat at the SSL Finals 2016, but he won't be alone. His crew, bronze medal Pascal Rambeau (FRA), will be very helpful with boat setup and secret tricks. But we believe the ace up their sleeve will be the match racer attitude if they reach the knockout final day.
25 teams will be competing at the 2016 SSL Finals, the top 12 Star Sailors of 2016 and 13 wild cards drawn from every aspect of the sport. After four days of racing for all, the competition goes into the knockout stages. Single races decide who survives and who is heading for the dock. The last four teams will contest a thrilling final race, the first to finish will be the winner of the 2016 SSL Finals and take home a lion's share of the $200,000 Prize Purse.