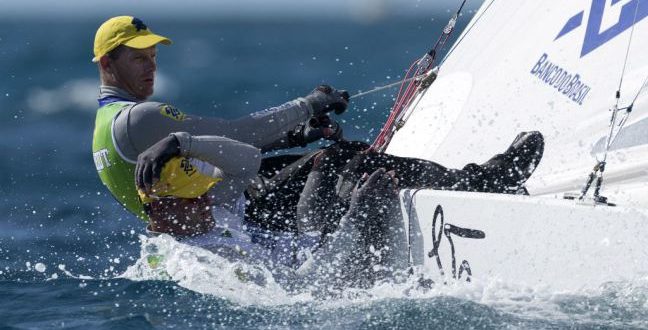 Count Down to Nassau – Robert Scheidt, Brazilian Sailing Superstar is Back
With two Olympic gold medals and 14 world titles Robert Scheidt is one of the best athletes ever produced by Brazil. Having come fourth in the Laser class at the Rio Olympics, Robert will join the Star Sailors League in Nassau, from November 28thto December the 4th to contest his third SSL Finals, after winning the first edition in 2013 with his fellow Brazilian Bruno Prada. It will be a happy return to the Star class, where Robert won two Olympic medals and three world championships.
"It will be different this time. In 2013, I was sailing with Bruno and we were fresh from the London Olympics in a Star, where we've earned the bronze medal. I've trained very little on a Star in the past three years and I have to pick up the pace now." Scheidt also declared that he will be sailing with Brazilian crew Henry Boening (Maguila) this time around, due to being a lighter weight to compete in the Laser at the Rio Games.
"We'll have a full week of intense training in October in Rio de Janeiro. I've sailed a few times with Boening and he is an excellent sailor: we can do well in Nassau." Scheidt will go to Bahamas a few days earlier to train and finalize last minutes details to perform at his best in the SSL Finals, where he will be racing with the top sailors in the world from the Star Class and other disciplines.
Given the short time to train, Scheidt hopes to have his favorite conditions in Nassau "We like strong wind, and it usually happens in the Bahamas, that would be ideal for us. We will face some very good sailors and I am sure it will be a super SSL Finals this year, with many medalists coming straight from Rio, particularly my opponents in the Laser class. It will be a fantastic event and I am very excited!" declared Robert Scheidt.
The Sao Paolo sailor, aged 43, cannot predict who will be the best on the water, but he has an idea on the candidates to reach the podium: Torben Grael (BRA), Xavier Rohart (FRA), George Szabo (USA), Augie Diaz (USA), Diego Negri (ITA) and all the Olympic champions from Rio competing in Nassau.


"SSL is gaining more international recognition every day. The level of sailors confirms its evolution and it is very important for the Star Sailors League to become an ever more global event, in favour of not only the Star class, but for sailing itself", says Scheidt.
At the SSL Finals there is a $ 200,000 prize purse, $ 40,000 to the winning team. Besides the SSL title in 2013, Scheidt was fifth in 2014, sailing with Bruno Prada on both occasions. Boening was fourth in 2014 sailing with Jorge Zarif. In the SSL Ranking for crew, Henry Boening is 12th.
Brazil will be very well represented at the SSL Finals, the legendary Torben Grael is set to compete with Guilherme de Almeida and more fantastic Brazilian sailors are in the hunt for a wild card tickets.