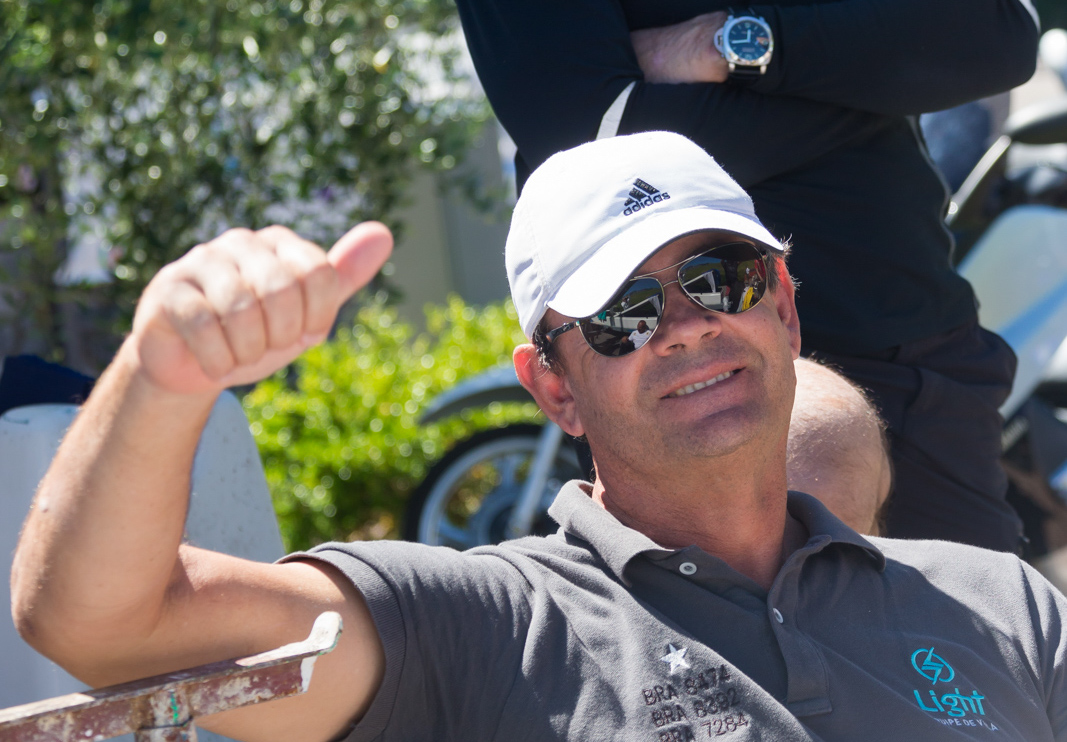 Know the Sailors: Lars Grael
Lars Schmidt Grael, São Paulo, Brazil. Highest SSL Ranking: 12
With his brother, Torben Grael, Lars won his first World Championship in the Snipe in 1983. Lars is also ten time Brazilian and five time South American champion for the Tornado class. Lars has competed at four Olympic Games in the Tornado, winning two Bronze Medals. In 1998, he suffered a serious accident, which amputated his leg. Lars then gradually began to take a role to promote sailing but returned to competitive sailing in the Star Class. In 2005, just seven years after his accident, he became South American Champion and went on to win three more Silver Stars. In 2013, Lars Schmidt Grael was elected President of the International Star Class Yacht Racing Association.
In November 2015, Lars Schmidt Grael & Samuel Gonçalves won the Star World Championship in Argentina. The Brazilian team will be racing together in Nassau this December at the SSL Finals.
---
SSL: If you weren't a sportsperson, what would you be?
LG: I`d probably would be in the military as my father (he was a parachuter from the Brazilian Army). Maybe a geologist. I would involve myself more with Brazilian politics.
SSL: What is the greatest sacrifice you have had to make in order to achieve success?
LG: Interrupting my studies at University while on my first Olympic Campaign for Los Angeles 1984, at the Tornado Class.
SSL: What animal fascinates you?
LG: I like dogs, but I`m fascinated with Dolphins!!!!
SSL: What kind of a person makes you angry?
LG: The ones that only live for themselves and don`t care about friends or those that may need your helpful hand.
SSL: What kind of person makes you happy?
LG: People that brings me happiness. Sometimes, a simple smile turns your life!!!!
SSL: What was is your favourite memory from another sport?
LG: Many!!! The Swiss marathon athlete, (Gabriela Andersen-Schiess) running inside the Los Angeles stadium in 1984!!! Ayrton Senna and Nelson Piquet in a memorable fight at an F1 Grand Prix. The Canadian master horse rider (Ian Millar) winning his Silver Medal at the Teams Equestrian competition in Beijing 2008, he tried for a medal since Munich 1972 !!!
SSL: What song inspires you?
LG: Also many. So many lyrics from Bob Dylan of from the Beatles. A song? "We used to know" from Jethro Tull.
SSL: Is there any technique you use when competing to help motivate yourself to work harder?
LG: A good song on your mind. Think about good things that brings you good spirit, motivation and sensibility!!!
SSL: If you could invite people through history for dinner, who would you choose?
LG: Paul McCartney.
SSL: How many Gold Medals or World Championships is 'enough'?
LG: As many that makes you keep dreaming and inspires other people.
SSL: A child asks you if Santa Claus is real, what do you say?
LG: I say yes, and keep that child with a beautiful dream.
SSL: If you could have a super hero special power what would it be?
LG: To end poverty in the World!!!

---
1-6 December 2015 – The third edition of the SSL Finals will take place in Nassau, Bahamas
All SSL events use a qualifying competition followed by a knock-out system. Teams take part in the qualifying rounds, which is a series of races over three days. The top 11 teams progress to the knock-out stage, which has four stages. In one-off races teams are eliminated, until just four teams remain to contest the final. The winner takes home a big slice of the $200,000 Prize Purse.
Watch all the action live from the Star Sailors League Final. With expert commentary from special studio guests. On the water, the latest in hi-tech camera technology, as well as Virtual Eye 3D Graphics, will provide thrilling viewing. Armchair sailors can also join the race with Virtual Regatta.