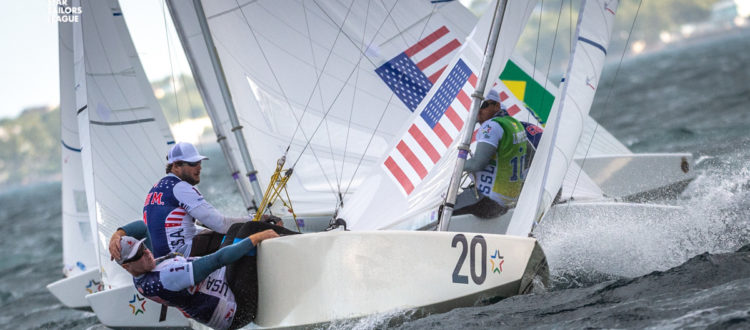 New leader at the Star Sailors League Finals
Bahamas conditions set in on day three of the Star Sailors League Finals with 12-18 knots winds from the prevailing northeast-easterly direction. With this wind direction the race committee moved the course out of Montagu Bay, where there were bigger waves, with limited protection from the full force of the Atlantic.
Despite being dominated by Olympic Finn sailors, the day ended with a new leader in Mark Mendelblatt and crew Brian Fatih, who now lead Robert Scheidt and Henry Boening by a mere point, going into the last day of the Qualifiers.
Fatih, who has sailed with Mendelblatt since they teamed up for London 2012, observed: "We're fortunate to be in this position: Robert is an amazing sailor, the benchmark so if you can stay up with him, you're happy." However following their 15-4-4 score today, gaining the lead was a surprise. "It was a struggle – we didn't feel great on the boat. We weren't terrible, it just wasn't as smooth as normal." However while today's first race became their discard, Scheidt and Boening had to count their 12th in race two.
It may also have been due to the more choppy conditions. "It was a battle trying to keep it in the groove downwind," Fatih continued. "Usually from this direction the left is pretty solid, but it was back and forth with some light spots."
Top scoring helm today was Finn sailor, was Jorge Zarif, the 2013 Finn Gold Cup winner and this year's Star World Champion, and Pedro Trouche, scoring 4-1-2 today elevated the young Brazilians into third overall.
"In the free pumping conditions today – I am from the Finn and that is one of themost important things we do," Zarif explained. "We tried to pump and rock as much as we could, although you have to play the waves and shifts as well."
Their race win today came after taking the lead on the second beat after benefitting from a favourable shift on the left. "There was a huge shift there because of the geography," said Zarif. "But in the third race there was a huge right. There weren't any clouds saying that. Sometimes you have to follow your gut."
Losing the race to Zarif was Kiwi-Anglo duo, Hamish Pepper and Steve Mitchell, who had done a fine job recovering from their dismasting in yesterday's breezy last race. "It required a bit of effort to tidy up the boat and get rid of all the damage and to find a rig suitable," admitted Pepper. "We finished it off this morning and our timing pretty good."
Of their day Pepper, the 2006 Star World Champion, was pleased. "We had two good races – an 8th and a second." Of race two: "On the second beat we played the middle because it was getting shifty. There were a lot of gains and losses. You couldn't protect both sides and in the end it favoured the guys on the left."
This year's Finn Gold Cup winner, Hungarian Zsombor Berecz posted today's second best score – 3-6-9 with Czech four time Finn Masters World Champion Michael Maier as crew, leaving them 10th overall. This was despite not finishing yesterday's last race when they broke a spreader, turning their mast to spaghetti, requiring them to fit a replacement overnight. "On the water sometimes we had very good speed, but not always. We've only had five days on the boat …" said Berecz. "Downwind we were playing it quite safe. We didn't put the mast forward enough, because we didn't want to break it."
Winner of today's first race were Star veterans France's Xavier Rohart and Pierre-Alexis Ponsot, who also benefitted from the left side of the first beat. They lead at the top mark and then were never challenged. "It is a good to have a good plan and to be able to run with it to the end, to play the shifts and be a little bit in front of the pack…it was really a text book race," said Rohart.
While many found fortune on the top left of the course, in today's final race Brazilian veteran Lars Grael and Samuel Gonçalves repeated their tactic from yesterday's second race, by going hard right, with the same outcome – victory. This has raised them to seven overall.
Tomorrow is the final day of Qualifiers at the Star Sailors League Finals and the target is to finish within the top 10 to progress through to Saturday's Quarter Final. As Zarif observed: "We have four races to go. It is a long way. Let's see what happens tomorrow." At present any of the top 22 teams could still make the cut.  
The winner of the Qualifiers fast tracks directly to the Final Race, while second place heads directly to the Semi Final. Those that finish the Qualifiers in third to tenth places, get to race in the Quarter Finals. The top five Quarter Finallists progress through to the Semi Final. The top three from the Semi Finals join the winner of the Qualifiers in the Finals.
Winner of the Star Sailors League Finals receives US$ 40,000 from a prize pot of US$ 200,000.