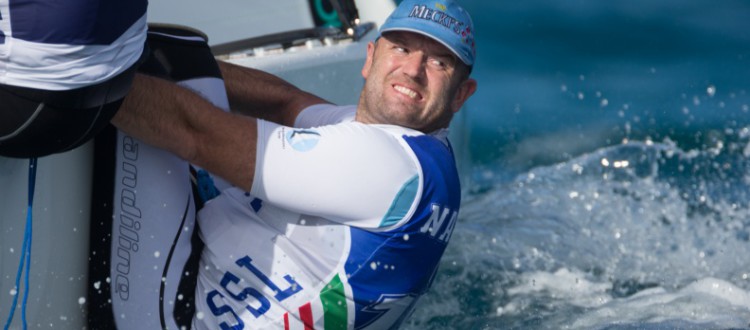 Know the sailors – Edoardo Natucci
Edoardo will be competing in his third Star Sailors League Final as crew for George Szabo. Edoardo is a gentle giant due to his friendly nature and stature of 190cm and 105kg. Away from the Star Class, Edoardo sails with the Shockwave Team, winning numerous Maxi Class events, including the RORC Caribbean 600. Also the RC44 one design circuit, TP 52 and the America's Cup with Mascalzone Latino in 2007.
---
SSL: What is the greatest sacrifice you have had to make in order to achieve success?
EN: Staying away from my family and my friends is always hard and I would have loved to be an engineer.
SSL: What animal fascinates you and why?
EN: A bear, a bit like me really!
SSL: What kind of a person makes you angry or happy?
EN: I don't like cocky people or people that let you down, traitors make me angry. Happy and trustworthy people are my choice.
SSL: What was is your favourite memory from another sport?
EN: Alberto Tomba, the best Italian skier ever, I followed him when I was young and he won so many Olympic and World Championships in the slalom – Tomba La Bomba!
SSL: What film inspires you and why?
EN: Film on Jonah Lomu, the rugby legend, called Anger Within. Jonah Lomu, had a difficult childhood but became an amazing young talent, he was a world-beater and as a man he had to fight a terrible illness.
SSL: Is there any technique you use when competing to help you motivate?
EN: Simply I concentrate on working harder and performing better.
SSL: If you could invite people through history for dinner, who would you choose?
EN: Giulio Cesare (Julius Caesar) and Giuseppe Garibaldi.
SSL: If you could have a super hero special power what would it be?
EN: Super Strength! I would need it for the SSL Finals, as the conditions are usually big and powerful in Nassau!

---
1-6 December 2015 – The third edition of the SSL Finals will take place in Nassau, Bahamas
All SSL events use a qualifying competition followed by a knock-out system. Teams take part in the qualifying rounds, which is a series of races over three days. The top 11 teams progress to the knock-out stage, which has four stages. In one-off races teams are eliminated, until just four teams remain to contest the final. The winner takes home a big slice of the $200,000 Prize Purse.
Watch all the action live from the Star Sailors League Final. With expert commentary from special studio guests. On the water, the latest in hi-tech camera technology, as well as Virtual Eye 3D Graphics, will provide thrilling viewing. Armchair sailors can also join the race with Virtual Regatta.