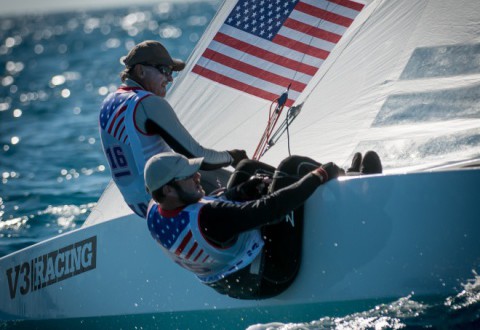 Know the sailors – Augie Diaz
Augie Diaz was born in Havana, Cuba and won his Silver Star at the 2013 Western Hemisphere Championship Nassau. In 2014 Augie came within a race of winning the Star World Championship but finished fourth and finished runner up in the Star European Championships the same year. A world-class competitor in the Snipe, Star and Laser classes. Augie began sailing Optimists at the age of eight and has won two Gold Medals at the Snipe World Championships and was voted 2003 USA Rolex Yachtsman of the Year. Augie will be racing with Arnis Baltins in their third Star Sailors League Final as a team.
---
SSL: If you weren't a sportsperson, what would you be?
AD: A Navy Pilot
SSL: What animal fascinates you and why?
Ad: The dolphin is fast as well as smart!
SSL: What kind of a person makes you angry or happy?
AD: People that do not help those in need make me angry but people who give a helping hand put a smile on my face.
SSL: What was is your favourite memory from another sport? Why does it stand out?
AD: Little League coaching because I love working with kids.
SSL: Is there any specific technique you to help motivate yourself?
AD: I use mental visualization and relaxation techniques.
SSL: If you could invite someone for dinner from history, who would you choose?
AD: Jesus Christ, Leonardo Da Vinci. Abraham Lincoln, Jose Marti and Winston Churchill
SSL: How many Gold Medals or World Championships is 'enough'?
AD: Never "enough", the only one that really counts is the next one.
---
1-6 December 2015 – The third edition of the SSL Finals will take place in Nassau, Bahamas
 
All SSL events use a qualifying competition followed by a knock-out system. Teams take part in the qualifying rounds, which is a series of races over three days. The top 11 teams progress to the knock-out stage, which has four stages. In one-off races teams are eliminated, until just four teams remain to contest the final. The winner takes home a big slice of the $200,000 Prize Purse.
Watch all the action live from the Star Sailors League Final. With expert commentary from special studio guests. On the water, the latest in hi-tech camera technology, as well as Virtual Eye 3D Graphics, will provide thrilling viewing. Armchair sailors can also join the race with Virtual Regatta.