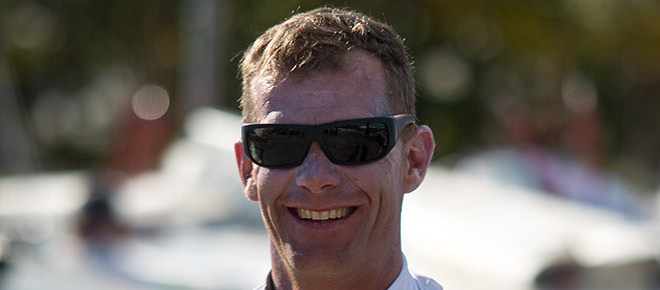 Robert Scheidt talks to us just a few days before the Nassau start
How do you feel inside?
I feel very calm. Myself and Bruno have tons of experience with the Star. We've been competing together for 10 years now. While it's true that we didn't get much time to train together this season because of our commitments with the Laser and the Finn, we are confident we can do well. We know the boat and, like I said, we're not short on experience. We think we will have time for some short but very intensive preparation before we get to Nassau and that will get us back to the good place we were in last year and the fastest speed possible.
And physically?
We're fine. We worked very well together all year. Nonetheless, we're a little lighter now. We've both lost a bit of weight. That isn't a great thing but we will do our best with what we have.
What are you doing in these pre-start days?
Athletic preparation aside, I am spending a lot of time with my family. I was just back from more than two weeks' training in Brazil, so I wanted to make the most of the time I had to be with my wife and kids in the open air. Lots of walks and visits to playgrounds.
And after the Final?
Immediately after the SSL Final, we'll all be heading to Brazil for the final competition of the year which are Olympic trials. My wife Gintare will also be competing in the Laser Radial, in fact.
Brazil has a brilliant team this time!
Yes, my nation's teams will be looking good at Nassau because we do more sailing in the Star than most. After Diego Negri, who has trained more than any of us, I think that Torben, Jorge and Marcelo, who did a regatta in Brazil just last week, will be coming to Nassau well warmed-up and in fine fettle.
How do you think the regatta will be?
The SSL Final will be a really tough series. Torben is always very strong. He's got loads of experience too. A really outstanding sailor. It will also be great to sail against Freddy Loof again. We haven't seen each other since the Olympics. The standard is even higher than it was last year too.
So what will you be doing to come out as well as possible?
As ever, the most important thing is to improve every day and every race. But what really counts is to get everything absolutely right on the final day. We will be trying to develop even further and get to a good level in the final part.
What podium do you see happening?
That's very difficult to predict. Freddy is a definite possibility for being out front. Diego has done a lot of training, Mateusz has pulled off some great surprises with very little training too. And then the Finn sailors could also do very well – they have been world champions for the last two years.
How do you see your performance unfurling and what goals have you set yourself?
It will be tough but that will also make it very good indeed. When the standard is so high, every tiniest mistake will cost you dear. But in the end, we're also going out there to enjoy ourselves. We'll try to do our best but without the pressure of an Olympic class Worlds.
We will do our best to give something good and significant back to the SSL in return as it is really doing a fantastic job. It's an excellent thing to give young sailors from other classes in particular this opportunity because they have the chance to sail with top class boats against the best sailors in the world.
What else are you excited about this year?
The live footage. Last year it was great: lots of people told me how great it was to watch the racing. This year it will be even better with the live action: the boats, the waves, the air, the starts. The Star is the most beautiful boat afloat. And the live feed will make the whole show even more spectacular.