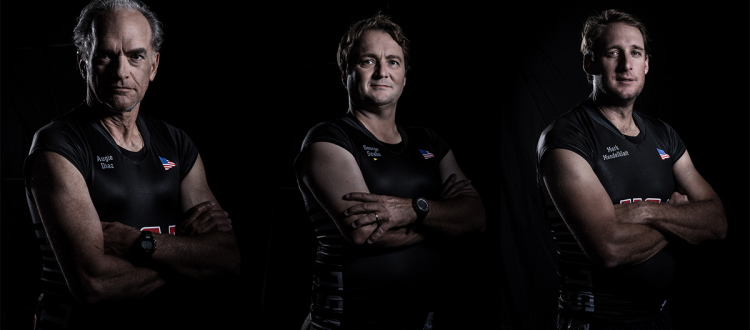 Three American Star greats to compete in the SSL Finals 2014
The United States will be the second most heavily represented nation at the SSL Finals when they take place at Nassau in the Bahamas between December 1st and 7th next.
Reflecting the consistency, quality and number of sailors involved in the Star class, the United States has the largest representation in the Star Sailors League with 294 skippers (out of a total of 1,001) and 376 crew (out of 1,435). Three of the American skippers – Augie Diaz, George Szabo and Mark Mendelblatt – are in the top 12 and automatically qualified once again for the second edition of the SSL Finals.
This is also the second year that Augie Diaz, will be the veteran member of the fleet at Nassau. #2 in the SSL Skipper Ranking, Augie is a living legend in Florida, including on the Snipe circuit, but his qualifying for the last year's Finals and 10th place finish well ahead of many Olympic sailors and class experts such as Cayard and Marazzi, really put him up with the big boys of sailing. He confirmed his talent at the Star Worlds 2014 at Malcesine in Italy where he led for a while on Day 4 eventually finishing fourth overall behind Stanjek, Negri and Melleby, having just missed out on a podium position by 3 points. Arnis Baltins is his bowman.
George Szabo, Gold Star in 2009, one of San Diego's most active Star sailors together with Mark Reynolds. Over the last year, Szabo's final results have been consistently on the rise: he finished seventh in the Worlds 2013, sixth in the Worlds at Lake Garda in 2014 and third at the Eastern Hemisphere in Switzerland. These are just some of his best results and have boosted him to the higher echelons of the ranking list. As he did in Malcesine, Szabo will be racing with Edoardo Natucci.
Naturally enough, the United States' last representative in the Star class at the Olympics, Mark Mendelblatt, also figures. He was third in the SSL Finals 2013 and, also last year, won the super-classic 86th Bacardi Cup at Miami. He has spent most of this year sailing in offshore classes. This week, in fact, Mark competed in a record edition of the Rolex Middle Sea Race, ending up third over the line. At the next SSL Finals, he will most certainly be one of the toughest to beat. His bowman will be, as always, Brian Fatih.
Augie Diaz: "The SSL Finals is the highest level of sailing for me and I can honestly say that I don't 'belong' in this group of the best sailors in the world. The level will be very high, so for this event my approach is not how to win it, but how not to be last! Sailing off Nassau is the best, so to be able to do this with the group that the SSL has assembled will be a privilege and I feel very fortunate."
George Szabo: "The SSL Final is a really neat event. To be able to race against so many top sailors at one time makes for extremely tight, close and fair racing. There are not too many events like this. Last year, the Star sailors had an advantage upwind, but that was erased by the excellent ability of the invited sailors downwind. This year I am looking to use what I learned downwind last year to have better result this year."
Mark Mendelblatt: "About the SSL Finals, I would like to say that is an honour to be able to compete against such a talented and famous group of sailors. The Finals last year was an outstanding regatta with a very exciting format. My crew, Brian and I were very happy to make it to the final race, and this year we hope to do the same. Nassau is one of the world's best sailing venues, and we are very much looking forward to returning and trying to beat the world's biggest names in the sport of sailing. We have been very passionate about sailing the star for many years, and thanks to SSL, many of us can continue to race in our favourite class."