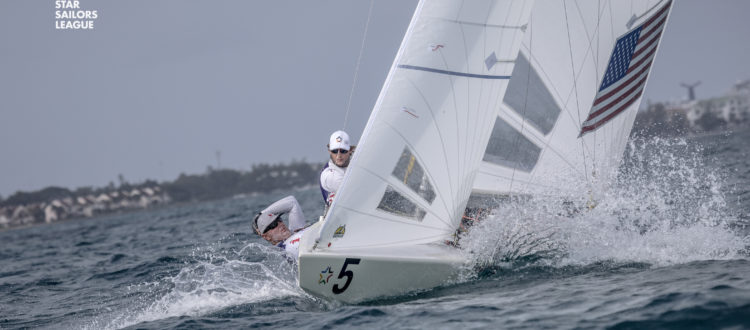 BRUNI SQUEAKS THROUGH TO GAIN LAST QUARTERFINALS BERTH
After three more races today on Nassau's Montagu Bay, the full 11 Qualifier races of the Star Sailors League Final were completed to determine which ten of the 25 teams would progress through to tomorrow's final rounds, when the US$ 200,000 prize pot will be distributed.
There was upset in the first race when another of the Star newbies won, beating the old hands of the former Olympic keelboat class. British Nacra 17 World Champion Ben Saxton, sailing with former Star World Champion Steve Mitchell, managed to hang on to their lead after winning the pin at the start and then fending off a persistent challenge from overall leaders the USA's Mark Mendelblatt and Brian Fatih.
"We were one boat length ahead for the whole race," said Saxton. "On the second beat we only crossed ahead of Mark and Brian by two metres – it was awesomely close racing. Then on the last run we had the Poles, Paul Goodison and Mark/Brian alongside of us and it could have gone any way. It was a pretty big celebration when we finished."
Italian Star veterans Diego Negri and Sergio Lambertenghi claimed the second race, their first bullet of the Qualifiers. But significant to the points tally was four teams being called OCS. This start line error would ultimately contribute to Brazil's Lars Grael/Samuel Goncalves and London 2012 Olympic gold medallist Freddie Lööf and Bruno Prada from making it past the Qualifiers.
After race two it was time for the teams to get their calculators out, to determine who would make it into the all-important top ten and would continuing and the 15 teams heading home. At this point 10th place was held by Italians Francesco Bruni/Nando Colaninno with France's Xavier Rohart/Pierre-Alexis Ponsot seven points ahead of them, while a further five teams were all still in with a good chance, up to nine points behind. These included Lööf/Prada and Norwegian reigning Star World Champion, Eivind Melleby/Joshua Revkin.
The day had got off badly for Bruni/Colaninno, in the sixth when they got out of bed, but dropping to 10th going into the final race. "We couldn't get our head around the shifts and we are not very fast downwind," admitted Bruni, adding that with too many boats to cover they just had to sail their best. "On the final run we knew that Lööf was behind and Lars [Grael] wasn't in the top three, so it would be pretty close between us and the Norwegians." Finally on the last run it came together: "We just pushed hard and finally we had one good downwind where we passed four boats." Melleby/Revkin's sixth place to their eighth was enough and Bruni/Colaninno were able to hang on to tenth securing their place in tomorrow's racing, albeit tied on points with Saxton/Mitchell. "We are very happy," said a beaming Bruni.
The day became a British double win with Laser gold medallist and two time Moth World Champion Paul Goodison, sailing with German Star veteran Frithjof Kleen, claiming the final Qualifier race. This left them in fifth place overall.
Coming out on top is the class act of the 2017 Star Sailors League Finals – Mark Mendelblatt and Brian Fatih. The American defending champions posted a 4-2-4 making them top scoring boat of the day and leaving them 19 points clear of early leaders Brazilian Olympic veteran Robert Scheidt and Henry Boening. Having won the Qualifiers Mendelblatt/Fatih are fast-tracked straight through to the Finals while Scheidt-Boening bypass the Quarter Finals and move directly to the Semi-Finals.
The remaining eight boats, from third placed Negri/Lambertenghi down, will compete in the single Quarter Finals race tomorrow, starting at 1100. Five then go through to join Scheidt/Boening in the Semi Finals. The top three from this join Mendelblatt/Fatih in the Finals, the winner of which will be crowned the 2017 Star Sailors League champion.
1 – Mark Mendelblatt/Brian Fatih — Straight to Finals
2 – Robert Scheidt/Henry Boening — bypass to Semi-Finals
3 – Diego Negri/Sergio Lambertenghi
4 – Paul Cayard/Phil Trinter
5 – Paul Goodison/Frithjof Kleen
6 – Xavier Rohart/Pierre-Alexis Ponsot
7 – Philipp Buhl/Markus Koy
8 – Mateusz Kusznierewicz
9 – Ben Saxton/Steve Mitchell
10 – Francesco Bruni/Nando Colaninno