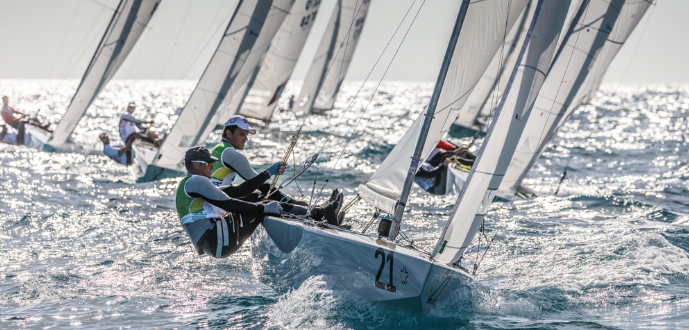 SAILING STARS CONVERGE TO NASSAU FOR THE SSL FINALS
The 2017 Star Sailors League Finals will officially start tonight with the Opening Ceremony at Government House in Nassau in the presence of Her Excellency Dame Marguerite Matilda Pindling, Governor-General of the Bahamas. A delegation of 20 SSL representatives will meet with Her Excellency at 5.30pm in a Courtesy Call. They will then join the 50 Star Sailors League Finalists and all of the other guests on the veranda at Government House, where each of the 25 teams competing in the Star Sailors League Finals will be introduced.
Racing at the fifth edition of the Star Sailors League Finals will start tomorrow, December 5th at 1300 local time (GMT -5), just a few miles out from their base at Nassau Yacht Club in Nassau's Montagu Bay. For the fifth year in a row, some of the world's best sailors will line up to compete for the 2017 Star Sailors League title, the 4,000 Star Sailors League Ranking points and the biggest share of the US$ 200,000 prize pot, on the crystal blue waters of the Bahamas.
The entry list comprises 25 outstanding teams, from 15 nations. Among them are nine of the top 10 skippers of the Star Sailors League Ranking and 16 VIPs picked from across the many different avenues of sailing. 23 Olympic medalshave hung from the necks of the 2017 Star Sailors League Finalists, of which seven are gold medals. In the line-up are a huge number of World Champions in both Olympic and big boat classes, Volvo Ocean Race, Louis Vuitton Cup and America's Cup winners, and for the first time some solo around-the-world skippers. It is an honour for the Star Sailors League to be joined for the first time by two French legends Loick Peyron and Franck Cammas.
Paul Goodison (GBR)                       Frithjof Kleen (GER)
Loick Peyron (FRA)                         Pascal Rambeau (FRA)
Francesco Bruni (ITA)                    Nando Colaninno (ITA)
Franck Cammas (FRA)                    Mark Strube (USA)
Torben Grael (BRA)                         Guilherme de Almeida (BRA)
Paul Cayard (USA)                          Phil Trinter (USA)
Robert Scheidt (BRA)                      Henry Boening (BRA)
Mateusz Kusznierewicz (POL)       Dominik Zycki (POL)
Freddy Lööf (SWE)                          Bruno Prada (BRA)
Ben Saxton (GBR)                            Steve Mitchell (GBR)
Oskari Muhonen (FIN)                   Johan Tillander (SWE)
Facundo Olezza (ARG)                    Juan Pablo Engelhard (ARG)
Xavier Rohart (FRA)                                    Pierre-Alexis Ponsot (FRA)
Lars Grael (BRA)                              Samuel Goncalves (BRA)
Georgy Shadyuko (RUS)                 Alexander Zybin (RUS)
Jonathan Lobert (FRA)                   Fabian Pic (FRA)
Eivind Melleby (NOR)                     Joshua Revkin (USA)
Augie Diaz (USA)                             Austin Sperry (USA)
Hamish Pepper (NZL)                     Craig Monk (NZL)
Mark Mendelblatt (USA)                Brian Fatih (USA)
George Szabo (USA)                        Edoardo Natucci (ITA)
Diego Negri (ITA)                            Sergio Lambertenghi (ITA)
Philipp Buhl (GER)                          Markus Koy (GER)
Hubert Merkelbach (GER)             Arthur Lopes (BRA)
Ivan Kljaković Gašpić (CRO)           Ante Sitic (CRO)
British Laser Olympic gold medalist Paul Goodison will race on the Star boat for the first time, after winning, twice in a row, the World Championship for the foiling Moth dinghy, the polar opposite of the one time Olympic doublehanded keelboat, designed in 1911. Among the fiercest competition will be between the legends of the Star class including Robert Scheidt, Freddy Lööf, Mateusz Kusznierewicz, Hamish Pepper, Mark Mendelblatt, Eivind Melleby, Xavier Rohartand crewmen Bruno Prada, Frithjof Kleen, Pierre-Alexis Ponsot, Brian Fatih and Dominik Zycki – all of whom raced at the London 2012 Olympic Games. Then there are the Grael brothers – Torben and Lars, plusPaul Cayard, Augie Diaz and George Szabo, all sporting the Gold star on the mainsail as past Star World Champions, plus Diego Negri and Francesco Bruni, who have history fighting to represent Italy in the Star back in their Olympic sailing days.
The commentating team is equally formidable including double Olympic champion Shirley Robertson, kiwi America's Cup sailor Peter Lester – the voice of Emirates Team New Zealand in Bermuda – former US Sailing Team member Kathleen Tocke, all coordinated by British anchor Digby Fox, commentating on the Star Sailors League Finals from day one. All races will be streamed live every day from Tuesday December 5th to Saturday 9thon www.starsailors.com and on the Star Sailors League Facebook page.
Tune in for spectacular racing in some of the world's most spectacular waters and to participate in 'Watch The Finals', a photo contest where you take a picture of yourself watching the SSL Finals and share it on Instagram with #WatchTheFinals and tag @StarSailorsLeague. The winner of this competition will receive SSL clothing signed by all the competitors.
Aside from the sailing, the schedule ashore for the week is rich in social events, starting with tonight's Official Opening Ceremony. On Thursday there will be a press conference to welcome journalists, both local and international, followed on Friday by a special birthday party by the pool to celebrate Bahamian Star Olympic champion, Sir Durward Knowles, who turned 100 last month. The Star Sailors League Final will end with a prizegiving ceremony on Saturday and the closing Gala Dinner at Nassau Yacht Club in the evening.
Follow the Star Sailors League Finals live on the official website, Facebook, Instagram and Twitter pages