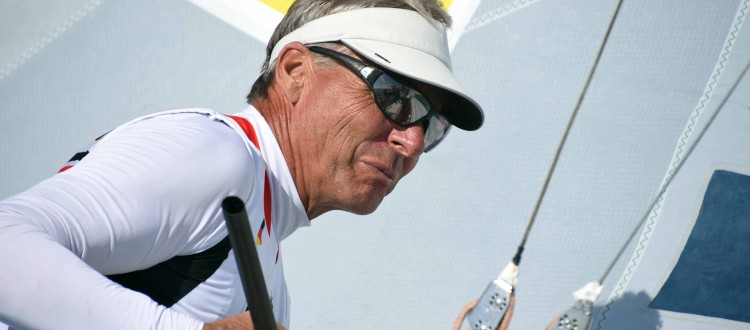 Inaugural day is now behind and 4 races have been posted. While the mid-way of the Qualification round has almost been achieved, let's see who is in and who is not at the moment.
The Tops
Xavier Rohart and Pierre-Alexis Ponsot
Clearly the best team on the water for this first day. Consistent, focused and (almost) always well-placed. Could have done better on the last race (11th).
See:Â Rohart at the top of his game
Jochen Schümann and Ingo Borkowski
Even when you have 3 Olympic medals and two America's Cup, jumping on a Star and race against the top of the top is not an easy task. But Jochen nailed it and posted a series of 7-5-8-(16). Let's put the last result on the high physical demand of 4 races on a single day and Schüminator is definitely a top!
See:Â Jochen's interview by Mathieu Truffer
Packed fleet during a downwind leg at the SSL Finals 2015.
Hamish Pepper and Bruno Prada
A strong (11)-7-1-2 that place them on the third spot. That was a great day for the Kiwi skipper and his legendary Brazilian crew. More than 3 years without sailing a Star seems to have not make great damages to Hamish's talent and he's definitely a major outsider. Confirmation awaited.
See:Â Sailing is (kind of) riding a bicycle
The Flops
Robert Stanjek and Frithjof Kleen
Star World champions in 2014, the German duo had a catastrophic first day. Posting (15)-13-13-15, it stands at the 18th and penultimate rank. In the absence of reaction from the NRV (Norddeutscher Regatta Verein) members, they may finish the week quite early as the critical 11th spot is already 13 point away. Let's count on Robert and Frida to see what they're really capable of.
Jorge Zarif and Henry Boening
Having just finished the Finn Gold Cup in New Zealand, the Brazilian young skipper has some attenuating circumstances but after his exceptional result last year (4th), it is quite surprising to see him in the last spot. Scoring a (19)-18-19-12, the Brazilian duo is already 21 points away from the provisional 11th spot. That will be tough but there 5 races to go until the cut is made. Everything is still possible.