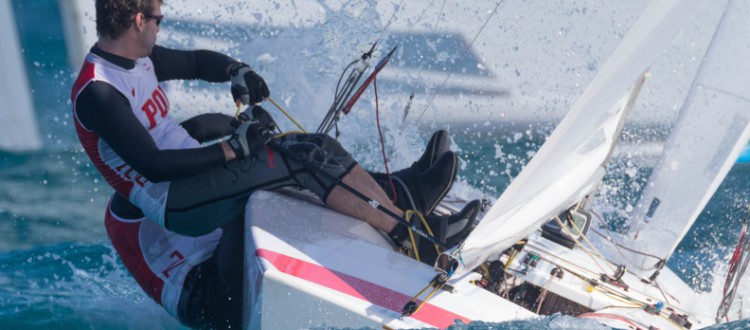 Know the sailors: Mateusz Kusznierewicz
Mateusz Kusznierewicz, Warsaw Poland, Highest SSL Ranking: 2
Mateusz has competed at five Olympic Games winning Gold and Bronze Medals in the Finn and was 4th in the Star in 2008, with his long time friend and Star crew, Dominik Zycki. Mateusz has won the Finn Gold Cup twice and placed second on three occasions. In 2008, Mateusz Kusznierewicz & Dominik Zycki won the Star World Championship and in 2012, the Star European Championship. The Polish team have competed at the last two editions of the Star Sailors League Finals in Nassau, placing second and third, and will be aiming for their first win this December.
---
SSL: If you weren't a sportsperson, what would you be?
MK: Good question. I love sports so I hope I would find my talent in golf, skiing or javelin throw. I could be also writer or media corespondent; I have a good feel for that role and I like it too.
SSL: What is the greatest sacrifice you have had to make in order to achieve success?
MK: Student friendships, which I have not managed to maintain.
SSL: What animal fascinates you?
MK: The eel, How it finds it's way to and from the Sargasso Sea from all over the world, amazes me.
SSL: What kind of a person makes you angry or happy?
MK: Stupid and annoying people make me angry. My wife and children make me happy.
SSL: What was is your favourite memory from another sport?
MK: An Eagle on the 2nd hole at First Warsaw Golf and Country Club. It was flawless and an easy swing. I felt it from the beginning "it's gonna be great". No audience, no spectators, only one witness but an important moment for me.
SSL: What song or book inspires you?
MK: Song: "No regrets" and "Feel"- Robby Williams. Film: Charlie Wilson War.
SSL: Is there a technique you use when competing to help motivate yourself?
MK: Yes, if I don't find enough motivation to go to the gym, I imagine to myself that my biggest rivals are doing that right now. It works great for me.
SSL: If you could invite anyone for dinner, who would you choose?
MK: Bruce Lee.
SSL: How many Gold Medals or World Championships is 'enough'?
MK: It's never enough. Every time it is a new challenge.
SSL: If you could have a super hero power what would it be?
MK: To be invisible.
---
 1-6 December 2015 – The third edition of the SSL Finals will take place in Nassau, Bahamas
 All SSL events use a qualifying competition followed by a knock-out system. Teams take part in the qualifying rounds, which is a series of races over three days. The top 11 teams progress to the knock-out stage, which has four stages. In one-off races teams are eliminated, until just four teams remain to contest the final. The winner takes home a big slice of the $200,000 Prize Purse.
Watch all the action live from the Star Sailors League Final. With expert commentary from special studio guests. On the water, the latest in hi-tech camera technology, as well as Virtual Eye 3D Graphics, will provide thrilling viewing. Armchair sailors can also join the race with Virtual Regatta.