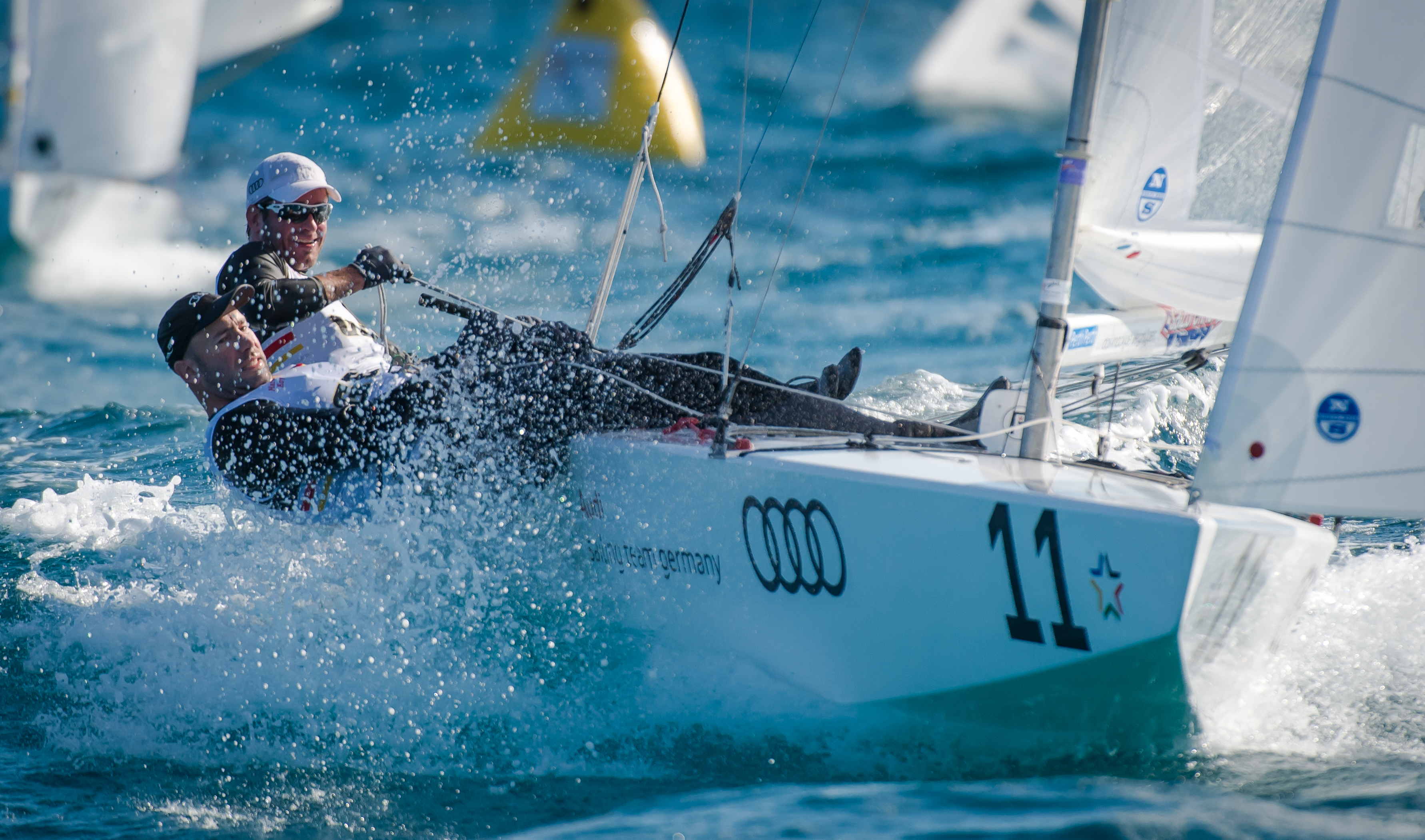 Introducing German duo Johannes Polgar and Markus Koy
There is one team in the SSL Finals 2014 that grabs the attention like no other for two very simple reasons: its ever-present Audi logo and the impressive 2.02 metre height of its bowman. We're talking, of course, about Germans Johannes Polgar and Markus Koy (the other German in the event this year is 2014 World Champion Robert Stanjek).
Polgar and Koy have been strong sailing partnership for many years now and finished fifth in the 2013 Star Sailors League Final with just Scheidt-Prada, Kusznierewicz-Zycki, Mendelblatt-Fatih and Negri-Lambertenghi in front of them.
This year, "Jojo" and Markus won the prestigious Heinz Nixdorf Trophy at Lake Möhnesee in 2014 and finished 10th at the Star Worlds at Lake Garda.
Jojo also won the German Championship in the German Sailing League this year (a series of 6 races) with the Norddeutscher Regatta Verein as well as working in the marketing department of AUDI AG in Ingolstadt, where he is in charge of Audi's German involvement in golf, DTM motorsport and, naturally enough, sailing. Last but not least, Jojo helmed a Swan 60 at the Copa del Rey at Palma in Mallorca for Team SGM.
Markus, on the other hand, took over North Sails' German one design division, coached in a variety of different classes (M32, J70, Dragon, etc.) and also did some work as a commentator for Kieler Woche TV and the German Sailing League.
Polgar declared: "The SSL Finals are our absolute season highlight in 2014! We did not have much chance to prepare well, but just the same as last year, we will fight hard to try and stay in the race until the finals. We expect extremely close sailing in an outstanding fleet, including even stronger competitors than last year. Make sure you follow the event live and online!"