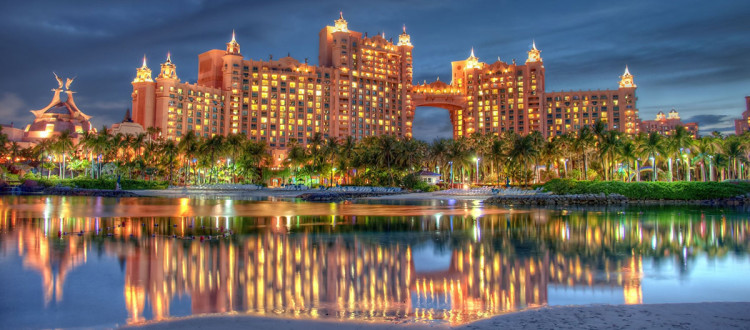 Discover the Islands of the Bahamas
The 700 beautiful islands and 2,000 chunks of coral and limestone outcrop that form The Islands Of The Bahamas are playgrounds for sailors, anglers, divers, nature lovers, eco-tourists – and those vacationers in search of the more glitzy pleasures.
More than five million people visit The Islands Of The Bahamas each year. You will find great enthusiasm for American culture, combined with a strong flavor of Great Britain. . . and a distinctly Caribbean beat.
Just 30 of the islands are populated and, together, they are among the most favored destinations for visitors and cruise ship passengers every year. New Providence has almost 60 per cent of the population and in the capital, Nassau, you can go on a horse-drawn carriage tour of a vibrant city filled with history's reminders in its Victorian buildings and fortresses.
Cross a bridge and you are in Paradise Island, a modern dream resort tailor-made for fun-seekers, featuring a 100,000 sq ft casino, a marina for large yachts, the world's biggest aquarium, and palatial hotels — or you might prefer the casinos of Cable Beach. And that's just the beginning.
Island-hop to Grand Bahama Island and try your luck at the slot machines at Grand Bahama's Vegas-style casino and then spend your winnings at Port Lucaya Marketplace. Vacationers to Grand Bahama Island can also experience world-class water sports including snorkeling, scuba diving, bonefishing, sport-fishing, kayaking, parasailing and boating.
Beyond these best-known vacation destinations are many serene island gems, known as the Out Islands. You can sail into at least 20 marinas on the Abacos ; dive in the 6,000ft (1,828 m) Tongue of the Ocean trench off the Berry Islands and Andros; fish for the biggest and best marlin and tuna in Hemingway's haunts off Bimini; admire the cliffs on Cat Island; surf in the giant waves of Eleuthera and discover picturesque Harbour Island; explore The Exumas by sail or with snorkel; swim in the clear waters of Long Island, and catch the spectacular view from Dixon Hill lighthouse on San Salvador. And these are just the beginning.
You will need many more trips just to scratch the surface of the possible activities and sights in The Bahamas. You'll find an extraordinary combination of activities, cultures and landscapes to suit anyone in search of sophisticated pleasures – and all in a perfect Caribbean climate.
Capital: Nassau
Population: 382,000
Entry requirements: A valid passport is the principal requirement for all US citizens.
Area: 700 islands of 5,380 square miles (13,900 sq km)
Currency: Bahamian $; US $1 = Ba $1
Language: The official language of The Bahamas is English, more British than American, and generally intertwined with a special Bahamian dialect.
Political status: independent nation; member of the Commonwealth
Religion: Traditional Christian denomination churches with Baptist, Anglican and Roman Catholic being the largest.
Business: In Nassau, Paradise Island and Grand Bahama Island, banks are open 9.30am-3pm, Monday to Thursday, and 9.30am-5pm on Friday. Hours vary in the other islands. The main banks are Central Bank of The Bahamas, Bank of Nova Scotia, First Caribbean International Bank, Canadian Imperial Bank of Commerce, Chase Manhattan Bank, Citibank, Royal Bank of Canada, and Commonwealth Bank.
Shops open 9am-5pm or later. Major payment cards are accepted.
Electricity: 120 volts AC, 60 cycles.
Telecommunications: the international dialing code for The Bahamas is 1-242 followed by seven digits. On the island, use the last seven digits only.