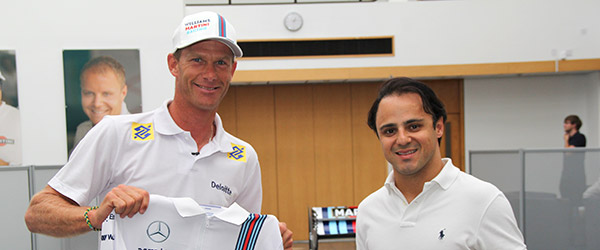 Robert Scheidt and Felipe Massa meet at Williams' factory
In collaboration with the English Formula 1 team, Star Sailors League organised a meeting yesterday between leading Brazilian sportsmen, Felipe Massa and Robert Scheidt, at the Williams' headquarters in Grove, Oxfordshire.
This was the first time the two hugely popular athletes had met: Scheidt is renowned for winning five Olympic medals, while Felipe Massa is the leading Brazilian racing driver of today, with 11 Grands Prix wins, 37 podium positions, 16 pole positions, and one third and one second-place finish in the World Drivers' Championship in 2006 and 2008 respectively.
Besides their nationality, the two men also share huge popularity with fans in Italy. Massa is much loved because of his long tenure with Ferrari as well as having roots in Cerignola (FG) of which he is also an honorary citizen. Scheidt, on the other hand, trains for a good part of the year at Torbole (TN).
Both men were delighted by the opportunity and Massa explained that "Scheidt has been a hero since I was a boy. My family had a home at Ilhabela, an area of Brazil where Robert did a lot of regattas and training. Since that time, I've always followed his adventures and tracked his results. I think Brazil may still get a gold medal in the next Olympics thanks to him." For his part, Robert Scheidt declared that "when I'm home I watch a lot of Formula 1 and it is always a pleasure to follow and cheer for a Brazilian as great and as strong as Felipe."
After a guided tour of some of the largest sections of the factory, a visit to the museum which houses Frank Williams' private collection of Formula 1 cars (also the world's largest) and a few laps on the simulator, Scheidt invited Felipe Massa to come and watch him compete (and perhaps take a spin) at Nassau in the first week in December during the second grand finale of the Star Sailors League, for which many of the world's leading sailors have already signed up. Aside from the highest ranked skippers in the SSL, of which Diego Negri tops the list, special invitees also number the illustrious likes of Swedish sailor Freddy Loof who took Olympic gold in the Star class at London 2012.